The Boston Bruins have avoided arbitration with Ryan Spooner after all, signing the restricted free agent forward to a one-year $2.825MM contract. Spooner was scheduled for a hearing today, and had asked for a $3.85MM contract. The team had countered with $2MM.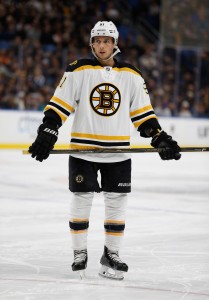 Spooner was one of the more interesting RFAs to watch this summer, who has obvious offensive talent but has been criticized throughout his short career for both his defensive play and effort level. The Bruins release seems to echo that idea, with this statement from GM Don Sweeney:
We know Ryan has the offensive skills to be an impactful player, especially while on the power play. We expect Ryan to continue to take the necessary steps with his development to be an even more complete, two-way player.
One of the better powerplay forwards in the league, he had run-ins with both Claude Julien and Bruce Cassidy throughout the season, and was eventually benched in the playoffs to make room for Sean Kuraly. Spooner remains a top trade candidate, and this contract could even make it easier to facilitate a move somewhere else around the league.
While some obviously think he'll never turn around his defensive liabilities, a 40-point forward for less than $3MM is still a valuable commodity. The fact that Spooner can play center ice adds to that, though it was clear Boston didn't love using him in that role this past season. Next season the Bruins could move him to the wing full-time if they believe Jakob Forsbacka Karlsson is ready to take over at center ice, though that is far from decided at this point.
Since Spooner is 25, this contract leaves him as a restricted free agent again next summer and eligible for arbitration once again. If it is with Boston, another big offensive season would force their hand into either signing him long-term or moving him somewhere that would. It will be interesting to see if they continue to give him powerplay time, because without it much of his leverage is taken away in negotiations.
The Bruins retain more than $10MM in cap space with which to sign David Pastrnak, a deal that should extend long-term and carry a very substantial cap hit. With another big cap hit added up front, it will be a tight fit next summer to hand out term to Spooner unless he makes himself indispensable this season. The Bruins will have five forwards already making at least $6MM each, taking up nearly half of the entire salary cap.
Elliotte Friedman of Sportsnet was first to report the deal.
Photo courtesy of USA Today Sports Images