The Nashville Predators have signed Ryan Johansen to a new contract. The deal is for eight seasons, worth $64MM and interestingly does not contain any no-trade or no-movement clauses. Johansen was a restricted free agent for the second time, and coming off a three-year $12MM deal he signed before being traded to the Predators. He was eligible for salary arbitration but chose not to file, instead working out a long-term extension with the team.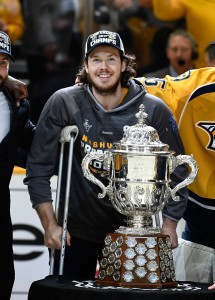 Johansen, 24, was acquired by the Predators from the Columbus Blue Jackets in early 2016 in exchange for defensemen Seth Jones. In a swap of fourth-overall picks, Johansen immediately filled a gaping hole on the Predators as a big number one center, while Jones joined one of the deepest defense corps in the league in Columbus.
Armed with a solid offensive group around him in Nashville, Johansen put up his fourth straight 60-point season and was a huge part in the Predators going all the way to the Stanley Cup Finals. Unfortunately he wasn't able to see it to the end, as he was injured in the Western Conference Finals on what seemed to be a pretty innocuous play, and would require immediate surgery.
Already this summer the Predators have seen Viktor Arvidsson locked up for the next seven years, while Filip Forsberg signed a long-term deal just a year ago. Those three form the core of what is an impressive forward group, that will get Nick Bonino, Scott Hartnell and several young players added this year. While James Neal has gone to Vegas, and Mike Fisher hasn't yet made a decision on a comeback, the present and future looks very bright in Smashville.
The $8MM average annual value of the deal puts Johansen tied for the 15th-highest paid player in the league next season, and eighth among centers right alongside Joe Thornton, who signed a one-year deal to return to San Jose. This deal's biggest comparable may just be Evgeny Kuznetsov, who signed an eight-year deal of his own just a few weeks ago. Kuznetsov will get $7.8MM per season, but also has considerably less experience in the NHL (though they are just a few months apart in age).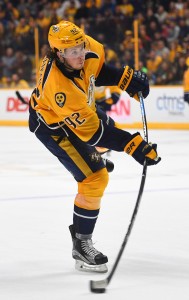 The Predators' top line of Johansen, Arvidsson and Forsberg is now under contract for a total of $18.25MM for the next five seasons, and are all still under the age of 25 currently. The trio is as dominant a group as you can find in the NHL, though as GM David Poile joked in his press conference, Johansen also has plenty of experience (and success) playing with Hartnell from their days in Columbus. It will be interesting to see the deployment next season, and if head coach Peter Laviolette breaks up his dynamic young line to spread out some of the offense.
For all the things Johansen does well, it's important to note that he's not without flaws. For all the offense he can create, he has been criticized in the past for a perceived lack of effort at times and has scored just 14 goals each of the last two seasons. While both those years came with relatively low shooting percentages, he doesn't generate as many shots as some of the other premiere centers in the league and could stand to use his size to his advantage a bit more.
That said, when lined up with natural goal scorers his playmaking ability can mesh and be disastrous for opponents to handle. His defensive acumen and work in the faceoff dot is exemplary, and should only improve as he enters his prime. Like Thornton in San Jose and Ryan Getzlaf in Anaheim, those skills can be more than enough to make an outstanding career.
Adam Vingan of the Tennessean first had the deal.