According to Louis Jean of TVA Sports, the Toronto Maple Leafs have shown interest in Vegas Golden Knights defenseman Nate Schmidt. Picked from the Washington Capitals at last night's expansion draft, Toronto had an up-close look at Schmidt in their first-round playoff series at the end of the year.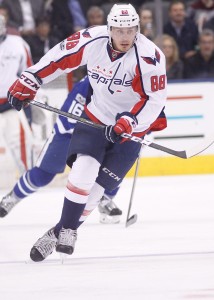 With Toronto on the lookout to upgrade their defense corps on both sides, Schmidt would represent a substantial upgrade over Martin Marincin who is currently penciled in to battle with newly signed Calle Rosen and perhaps prospect Travis Dermott for the bottom pair. Before the draft, when George McPhee admitted that he was still talking to Maple Leafs GM Lou Lamoriello even after his self-imposed deadline, it was speculated that it could be about the acquisition of a young defender.
Schmidt fits that bill and though he's a restricted free agent could command a similar return to the earlier-traded Trevor van Riemsdyk. TvR went for a second-round pick to Carolina, though that may have also been linked to the trade they made during the draft for certain protection assurances. Schmidt is the same age, has had very similar production and was also signed as a college free agent after three years at a top school.
An elite skater, Schmidt is a bit more dynamic than van Riemsdyk and would fit into an increasingly mobile defense group in Toronto. The team doesn't have a ton of cap room to operate with this summer due to several LTIR-bound contracts, but as Scott Wheeler of the Toronto Star notes, Schmidt has been a long time target of the Maple Leafs. He was involved in the talks that resulted in the acquisition of Brooks Laich and Connor Carrick, the second straight time Toronto dealt Daniel Winnik.
Photo courtesy of USA Today Sports Images