Over the next few weeks we will be breaking down each team's situation as it pertains to the 2017 NHL Expansion Draft. Which players are eligible, and which will likely warrant protection or may be on the block. Each team is required to submit their protection lists by 4pm CDT on June 17th. The full rules on eligibility can be found here, and CapFriendly has provided a handy expansion tool to make your own lists.
Eligible Players (Non-UFA)
Forwards:
Mark Scheifele, Blake Wheeler, Bryan Little, Mathieu Perreault, Shawn Matthias, Adam Lowry, Joel Armia, Ivan Telegin, Quinton Howden, Marko Dano, Scott Kosmachuk, Andrew Copp, Ryan Olsen, J.C. Lipon
Defensemen:
Dustin Byfuglien (NMC), Toby Enstrom (NMC), Tyler Myers, Jacob Trouba, Mark Stuart, Julian Melchiori, Ben Chiarot
Goaltenders:
Michael Hutchinson, Connor Hellebuyck
Notable Exemptions
Patrik Laine, Nikolaj Ehlers, Kyle Connor, Jack Roslovic, Tucker Poolman, Logan Stanley, Josh Morrissey, Michael Spacek, Jansen Harkins
Key Decisions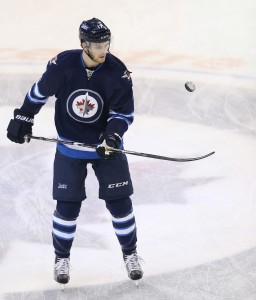 The biggest factor in the Jets expansion protection is something we've written about before; whether or not Enstrom will waive his no-movement clause. If he does, it gives the team several options while if he doesn't, the Jets will be almost forced to protect eight skaters instead of the 7-3-1 method.
Up front Scheifele, Wheeler and Little are locks as the core of the forward group, but after that it gets a little tricky. Perreault, Lowry, Armia, Dano and Copp all have their own strengths and weaknesses, and could deserve protection depending on how the team decides on their future. Perreault had another solid season with 45 points in 65 games but has had trouble staying healthy and is on the books until he's 33.
The other four are all 24 or under and have shown flashes of big potential. Armia and Dano are former first-round picks, while Lowry and Copp are both capable young centers, something Vegas will be hard-pressed to find in the draft. Even if the team protects seven forwards, there will be an interesting option or two available up front.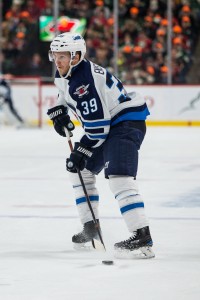 Defense is where the problems originate, since Enstrom's NMC puts several players at risk. Even if Myers' health issues are starting to wear on Winnipeg fans, watching him walk out the door for nothing after trading Evander Kane and Zach Bogosian to acquire him (and the rest of the package) would be painful. Trouba obviously deserves protection, leaving Melchiori and Chiarot as outside options for the Golden Knights.
In net Hellebuyck is clearly the future in Winnipeg, even if he is supplanted in the short-term by a free agent acquisition. Hutchinson has shown he has some ability as an NHL backup, but would be way down the menu for Vegas and unlikely to be selected anyway.
The Golden Knights will get a window in which to negotiate with free agents, and for the Jets that doesn't seem to be an issue. Other than possibly bringing Pavelec on board, there aren't any UFAs that are worth forfeiting what should be a good selection from Winnipeg.
Projected Protection List
F Mark Scheifele
F Blake Wheeler
F Bryan Little
F Adam Lowry
D Dustin Byfuglien (NMC)
D Toby Enstrom (NMC)
D Tyler Myers
D Jacob Trouba
If the Jets can't get Enstrom to waive it, the protection list should look something like this. It would make their group one of the most talented options Vegas has in the draft, and a tough but rewarding selection for them. Because of that, watch closely for the team to figure out a deal with the Golden Knights to pick a certain player.
Of note, Ivan Telegin appears on the eligible list despite him never playing an NHL game and only 34 AHL contests. He's played in the KHL for the past three seasons, but since those were after he had already signed an Standard Player Contract (SPC) in the NHL—his entry-level deal in 2011—he's considered to have several years of professional service and is therefore eligible.
The Jets are in one of the worst situations in the league at the moment for the draft, though it is mostly because of the solid depth they've built at every position. For a team vying for the playoffs next season, losing one of the above listed players wouldn't be crippling especially as they have youngsters like Roslovic and Poolman set to fight for spots.
Photos courtesy of USA Today Sports Images