Another one of our Top 50 Free Agents is about to come off the board, as Darren Dreger of TSN is reporting that Kris Versteeg is close to signing a one-year, $1.75MM contract to stay in Calgary. We had Versteeg projected to earn a two-year deal worth $4.4MM on the open market, but he seems ready to stay put for a more reasonable price.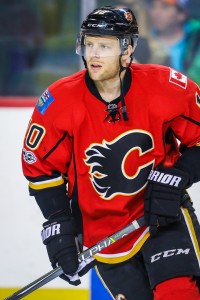 Versteeg had to settle for a PTO with Edmonton last year before signing a $950K contract with Calgary. That late-camp switch was a hard pill to swallow for Oilers fans who had hopes of Versteeg continuing to produce in his normal 35-40 point range. Produce he did, with another 37 point season for Calgary and proof that he's able to put points up regardless of linemates or situation. For the Flames, Versteeg saw less than 15 minutes a night and only played in 69 games do to injury. That 37 points was still good for sixth among Flames forwards, and a very good per-point cost.
At $1.75MM, Versteeg again represents a bargain for the Flames as they look to compete for the Stanley Cup next season. After bringing in Travis Hamonic for draft picks, and trading for Mike Smith to anchor their net the team looks to have solved both of its issues from last season without sacrificing the roster. It wasn't clear if Calgary was going to be able to keep Versteeg though, as they had just over $15MM of space with new contracts due for Sam Bennett, Curtis Lazar and Micheal Ferland and still some work to do on the blueline and at backup goaltender. This deal easily fits him into that structure, and puts almost no risk on the Flames with just a one-year term.
At just 31, Versteeg has played for seven different NHL franchises and seems to be a favorite target at the trade deadline. He seems to have found a home of some sort in Calgary though, and it doesn't hurt to be from just down the road in Lethbridge. Versteeg grew up just a few hours drive from Calgary, and still has family in the area. He was clear about his desire to return at the end of the season, and now will get his wish to stay in Alberta for another year.
Photo courtesy of USA Today Sports Images