While the second half of the 2017 draft is underway, the Calgary Flames are working on their NHL squad. The Flames have acquired Travis Hamonic and a conditional 2019 fourth-round pick from the New York Islanders. The draft pick could be pushed to 2020. In return, Calgary will send a 2018 first-round pick, 2018 second-round pick, and a conditional 2019 second-round pick, that could also be pushed to 2020. The conditions depend on another pre-existing trade with Arizona, which could end up in the Coyotes first acquiring the Flames 2019 second-round pick.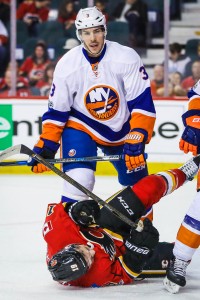 Hamonic's name has been in the news for the last few days, with the Islanders holding firm at an ask of two first-round picks. While they didn't get quite that value, they came very close. The Islanders, who protected five defensemen in the expansion draft, are hoping that Ryan Pulock can make the jump full time next season and replace some of Hamonic's minutes.
The 26-year old Hamonic has logged at least 20 minutes a night in every year since he debuted as a 20-year old, and is an excellent two-way defensmen capable of contributing at both ends of the rink. His career high of 33 points will be difficult to duplicate in Calgary without extensive powerplay time, but he fills out their top-4 quite nicely.
It would seem now that Michael Stone is no longer in the Flames plans, as the pending free agent would have to take on a third-pairing role. He's one of the top defenders set to hit the open market even with his injury history, and would likely be looking for a bigger role. After fitting in quite nicely with the Flames down the stretch, they'll expect even more of Hamonic as the last part of what has become an excellent top-4.
Calgary is paying a lot, but with a team that believes they can compete for the Stanley Cup as soon as this season, they believe that it's worth it. Hamonic is under contract for three more seasons at a very reasonable $3.86MM, making him an attractive option to any team.
For the Islanders, this does seem to be a trade in the opposite direction as the earlier Jordan Eberle acquisition, but easily could flip the draft picks for more help in the short-term. Either way, getting that much value back for a player who you believe you can replace internally is a a solid move. The Islanders still have an effective defensive group, but also must think about the upcoming extension for John Tavares.
It's an interesting balance, of building a winning team to entice him to sign, and leaving yourself enough cap space to get him into the salary structure. With Josh Bailey, Brock Nelson, Shane Prince and Alan Quine all hitting various versions of free agency next season, the Islanders have to spend their money wisely.
Elliotte Friedman of Sportsnet was first to report the contract, while Pierre LeBrun first broke the details on the return.
Photo courtesy of USA Today Sports Images