The New York Islanders have acquired Jordan Eberle from the Edmonton Oilers. In return, the Oilers will receive Ryan Strome. The deal is just one-for-one, with no additional salary or assets changing hands.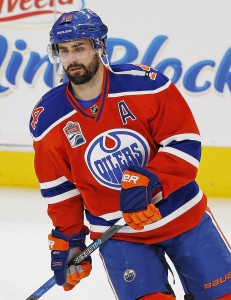 Eberle is coming off a terrible playoffs with the Oilers, scoring just two points (and no goals) during their entire run. Falling out of favor with the coaching staff and playing less than 13 minutes in three of the final four games (with the other going to overtime) it was easy to see why his name immediately popped up in trade speculation around the league. The 27-year old is still one of the most consistent offensive wingers in the game, recording 20 goals for the fifth time in his career and registering 51 points this season.
The biggest negative for Eberle, and perhaps a bigger reason why he'll no longer play in Edmonton, is that he was signed for $6MM through the end of 2019. With the Oilers needing money and cap space for long-term extensions for Leon Draisaitl and Connor McDavid, his contract was the most likely to go. The Islanders, who cleared room with a Vegas deal yesterday, needed to give John Tavares some help on the first line to try and keep him around long-term.
In theory, Eberle seems like the perfect fit. The pair were magic together at the World Juniors nearly ten years ago, and would seem to be natural compliments to each other in New York. Should Doug Weight put Eberle with Tavares and 34-goal man Anders Lee, the Islanders could have one of the most dynamic offensive lines in the league.
While the Oilers get some much needed salary relief, they also add Strome, the fifth-overall pick from 2011 and middle brother in a hockey playing family. Strome played just 69 games last season registering 30 points, but did seem to find some success after the Islanders' mid-season coaching change. Even though he might not have the goal-scoring ability of Eberle, he is considerably younger and substantially cheaper. His ability to play center, at least part-time, is also interesting and he could easily return to the 50-point season he had as a 21-year old.
Strome, 23, costs just $2.5MM this season and will be a restricted free agent next summer. If he does break out, the Oilers could be in a similar situation without the money to pay him a long-term deal, but would rather take their chances at this point and make sure their big two are locked up.
Darren Dreger of TSN was first to report the deal.
Photo courtesy of USA Today Sports Images