Seconds after publishing the note about Marco Scandella and the Buffalo Sabres, the two consummated the deal. Scandella will be heading to the Sabres along with Jason Pominville and a 2018 fourth-round pick, in exchange for Tyler Ennis and Marcus Foligno and a 2018 third-round draft pick. There is no salary retained on either side. Scandella has been rumored to be on the block for some time, with the Montreal Canadiens being the first club linked.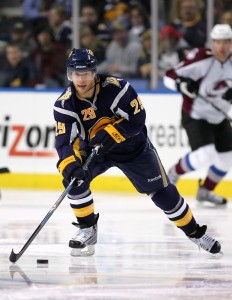 At first glance, this deal offers clear benefits for both sides. For Buffalo, Scandella represents a clear upgrade on their blueline and won't cost as much as Kevin Shattenkirk on the open market. Scandella has three years left on his current contract at $4MM per season, and is a solid two-way option. At 27, he's not much of an offensive threat buck can consistently retrieve and move the puck out of his own end. He joins newcomer Nathan Beaulieu to improve the defensive group, and could pair with top defender Rasmus Ristolainen in Buffalo.
Pominville isn't much of an asset at this point because of his big contract, but he did still record 47 points last year and is returning to a team where he found his greatest success. Before spending time as the captain of the Sabres, Pominville developed from second-round pick to elite winger, scoring a career-high 80 points in 2007-08. He's not that player anymore, but should still provide some offensive punch to the Sabres' middle six. Pominville has two years remaining at $5.6MM, making him the most expensive piece in the trade.
Going the other way is Ennis, who is good friends with Wild defenseman Jared Spurgeon and was even working out with him when the deal was broken. A few years ago, he likely would have been the biggest part of the deal after five straight successful seasons as a second line center. That play has dropped off a cliff recently though, limited by several injuries to just 74 games over the last two seasons. During that time he's scored 24 points, but Minnesota will hope he can bounce back and give them some value for his $4.6MM cap hit. That contract will expire after the 2018-19 season, when Ennis is just 29.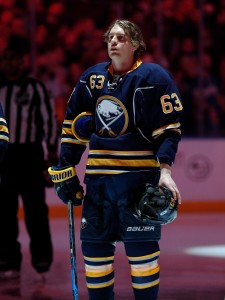 Foligno, the best player in the deal for Minnesota, is an restricted free agent still but should provide some size and strength to the club. His 279 hits last season ranked second among all forwards last year, and he can chip in double digit goals from a bottom-six role. At 25, he's a useful player for any team and will fit into a tough defensive team in Minnesota.
If Foligno is the best player in the deal for the Wild, the cap space cleared is the best asset. The Wild have to re-sign both Nino Niederreiter and Mikael Granlund to big RFA deals, and open up a few million with this contract (depending on what Foligno earns on his next contract). They also might be opening up some room for free agency tomorrow.
In all, this deal seems like a win-win for both clubs with upside to make it a big win for either. Should Pominville mesh with the young forwards and bring a winning culture, or Scandella find chemistry with Ristolainen on the top pairing they could be a much improved club. Minnesota could easily get a bounce-back campaign from Ennis, or a Foligno offensive breakout.
Bob McKenzie of TSN first reported the deal, while Michael Russo of the Star Tribune helped with details.