Newly acquired goaltender Ben Bishop has signed a deal with the Dallas Stars. The contract will be for six years and come in at a total of $29.5MM ($4.92MM AAV). The Stars received Bishop in exchange for a fourth-round pick on May 9th, and were immediately said to have common ground on a future contract. Bishop would have been an unrestricted free agent this summer should he have made it to July 1st.
Like Carolina, who dealt for Scott Darling before quickly signing him to a long-term deal, the Stars were not willing to wait around to address their goaltending issues this summer. Instead, they were proactive going after one of the top free agents and seem to have gotten their man without having to fight off any other teams.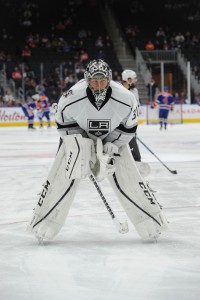 While this contract may seem like a bargain at the low cap-hit, six years is a lot to give to a goaltender who will turn 31 in November. While he clearly has the talent to be an elite netminder in the NHL, this is a big gamble by the Stars that could backfire quickly. Any contract guaranteed the Stars will make another move—whether it be a buyout or trade—of one of their other goaltenders. Kari Lehtonen and Antti Niemi already cost the team over $10MM combined, and a new contract for Bishop would make them both expendable.
Bishop is coming off a two-year deal that paid him $5.95MM per season, and though his first season was well worth it this year saw a downturn in his play. As the Lightning leaned further toward Andrei Vasilevskiy as their starter, Bishop recorded only a .911 save percentage and dealt with injury. After a mid-season deal to the Los Angeles Kings, he performed even worse stopping just 90% of the shots faced.
This deal puts him in line with goaltenders like Jimmy Howard, Jaroslav Halak and amazingly, Niemi in terms of cap-hit. While it also comes close to Frederik Andersen's deal from last summer with the Maple Leafs, Andersen was much younger when he inked his five-year pact. Bishop will play most of the final season on this contract at 36, an age few goaltenders make it to as starters.
The contract is broken down as follows:
2017-18: $7MM, NMC
2018-19: $6.5MM, NMC
2019-20: $5.5MM, NMC
2020-21: $3.5MM, modified-NTC
2021-22:$3.5MM, modified-NTC
2022-23: $3.5MM, modified-NTC
The front-loaded nature of the deal also poses a problem for the Stars, should they ever need to use a buyout on Bishop as he ages. With a low salary in the final few years, a buyout wouldn't provide as much cap relief for the team, though the change to a modified no-trade clause (though details have not yet been released) could provide an avenue of escape.
Regardless of the risk involved down the road, Bishop will immediately have a big responsibility on his shoulders, trying to bring the Stars back to the promised land after a disaster season. The team will have two first-round picks to add to the stable, allowing a quick injection of talent to a roster that should already be competing for the playoffs.
Pierre LeBrun of TSN was first to report the deal was close, and also provided the first financial details.
Photo courtesy of USA Today Sports Images