The Pittsburgh Penguins have landed arguably the top NCAA free agent, inking Zach Aston-Reese to a two-year, entry-level contract. The deal will kick in for the 2017-18 season, and Aston-Reese will report to Wilkes-Barre Scranton for the remainder of this season on an amateur contract.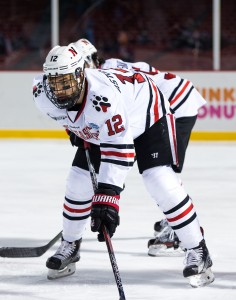 Aston-Reese just finished up his final season at Northeastern University, where he led the nation in goals with 31 and points with 63. Those totals, amassed in just 38 games were a big improvement over previous seasons and showed just how physically dominant he was this season. His net-front presence was almost unstoppable as he scored from in tight seemingly at will. While not an imposing frame at just 6'0 180-lbs, Aston-Reese plays bigger than he is and competes for every inch in the offensive zone.
Though he is tough to control in front of the net and in the corners, his skating ability is still questioned and it will lead to some struggles as he tries to adapt to the professional game. The forecheck will be harder to get in on at the next level, with defensemen that can make quicker decisions and move the puck more adeptly. That's not to say he can't improve, as at 22 he is far from a finished product. The Pittsburgh development teams and coaching staffs are likely excited to work with him, as he's shown nothing but work ethic and improvement during his amateur career.
There is a chance Pittsburgh will use him on the NHL roster as soon as next season as they may say goodbye to at least three key members of their recent squad. Matt Cullen, Chris Kunitz and Nick Bonino are all unrestricted free agents this summer, and the Penguins will likely wave goodbye to all three in order to re-sign their restricted free agents (like Justin Schultz, who will be in line for a big raise).
Aston-Reese will have an interesting opportunity in Pittsburgh, as his ability to bury rebounds and screen goaltenders could come in handy on a team that contains so many skilled players. If that scoring touch follows him to the professional ranks, it's not out of the question that he could be a very useful player for an organization that spreads around the offense. Either way, we'll keep an eye on the NCAA standout and see what he can do as the baby-Penguins hit the playoffs. WBS is in first place in the entire AHL, and has just seven games remaining before they try for the Calder Cup.