The Chicago Blackhawks have decided Tanner Kero has done enough to stick around, as they have signed him to a two-year extension that will run through 2018-19. The 24-year old was set to become a restricted free agent this summer, and would have been eligible for salary arbitration. The financials of the extension haven't been released, though Chicago will likely get him at a reasonable price given his production this season.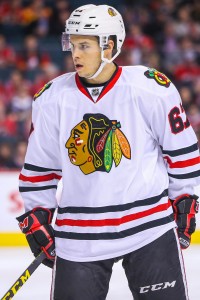 A former Michigan Tech Huskies standout, Kero scored 46 points as a senior before signing with the Blackhawks in 2015. Since then he's made an impact in the AHL level with 64 points in 94 games and established himself enough to earn a full-time role on the NHL team. Usually centering the third line between Ryan Hartman and whoever happens to not be playing with Jonathan Toews at the time, Kero has 12 points in 38 games this season. With over 13 minutes a night he has been a legitimate part of the Blackhawks Western Conference-leading season, if not an offensive force.
There is still upside in Kero, who doesn't necessarily need to be deployed as a defensive center. His playmaking ability is actually quite good, and will likely reward the Blackhawks with another relatively cheap middle-six option for the next few years. Chicago has been excellent at taking players from the college ranks and using them almost right away to insulate their core forwards, like they have most recently with John Hayden and Nick Schmaltz. While those two were previous draft picks of the team, Kero cost them nothing but money when he graduated from Michigan Tech. He's an example of one of the only ways to sustain a contending run like the Blackhawks have for the past decade.
The Hawks now have just a handful of restricted free agents to sign this summer, which is a good thing because of their cap situation. After the signing of Kero the team will have between $5-7MM to work with depending on what the final salary cap number is, with a back up goaltender and at least one defenseman still to bring in after the RFAs. They could go to their system and install Jeff Glass and Ville Pokka into the NHL team full-time, but that would seem to be a step backwards on both fronts. Richard Panik remains their most important RFA after finding excellent chemistry with Jonathan Toews this season for a 20-goal campaign. The 25-year old might be the next victim of the Chicago cap crunch, with players like Schmaltz and Hartman looking ready to step into a bigger role.