During the blitz of this morning's Ron Hainsey deal that saw the defenseman move to the Pittsburgh Penguins, CapFriendly tweeted out a bombshell about pending UFA Ben Bishop. Bishop has been long thought of to be on the move at the deadline if the Tampa Bay Lightning feel they're out of the playoff race, but it may be harder for Steve Yzerman and company to do that than previously believed. According to the site, Bishop actually has an eight-team list that he cannot be traded to. While there isn't any clarification on which teams those may be, it definitely makes it harder to trade him.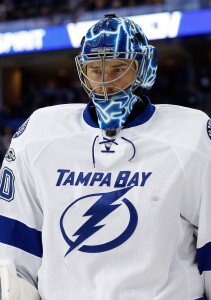 The goalie market is more robust than year's past because of the sheer number of teams that are still in the mix for the postseason, but if that list contains some specific teams it could completely tie the Lightning's hands at the deadline.
New York (Islanders), Calgary, St. Louis, Philadelphia and Winnipeg could all have various interest in the goaltender, depending on how the next week shakes out for them and their own confidence in their current situation. His recent play has looked more like the Vezina-quality netminder than the one we saw earlier this season, including a shutout of the Los Angeles Kings earlier this month. The Lightning, who are making a case for their own playoff spot, may choose they are better off with him but risk losing him for nothing this summer.
The 30-year old netminder ranked fifth among our Top Midseason UFAs, and he is destined to be sought after this summer by multiple teams looking for a change in goal. All this NTC does is make it even tougher for the Bolts to move him, should any of the above teams fall on his list. He could, however choose to waive the clause to go after a Stanley Cup somewhere else if the Lightning fall out of it—with just two games before the deadline, it could very well hinge on Monday night's tilt against the Ottawa Senators to decide which way the team goes at the deadline.