The Detroit Red Wings locked up a player today instead of shipping him out, inking defenseman Nick Jensen to a two-year extension. Helene St. James of the Detroit Free Press reports that the deal is worth a total of $1.625MM over the two seasons, split $800K/$825K.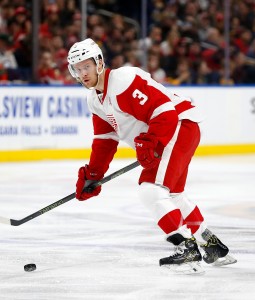 Jensen was selected by the Red Wings in the fifth round of the 2009 draft, and slowly worked his way through the system over the past few years. This season he has shown that his smooth skating and puck movement had developed enough to be a positive at the NHL level, and would have become an unrestricted free agent at the end of the season. The 26-year old will now provide a cheap option for the team on the back end as they try to do a quick rebuild.
Though he will also likely fulfill the expansion draft requirement for defense, this seems more to be a deal locking up a home-grown soldier that has done everything asked of him over the years. Detroit has a long tradition of forcing players to make their mark in Grand Rapids before giving them a shot in the NHL, something that Jensen has done very well over the past two years. While he is by no means a star or shutdown defender, capable right handed shots aren't the cheapest things to come by.
The team will likely now turn their attention to—if it wasn't already—Brendan Smith and the possibility of trading him in the next couple of days. The pending UFA has been rumored to be sought after by a handful of teams including the New York Rangers and Toronto Maple Leafs, though it's not clear that any team has put forth an offer.
Photo courtesy of USA Today Sports Images