The injuries continue to pile up for the Detroit Red Wings after Tyler Bertuzzi, and Brendan Smith both left the game in the Red Wings 2-1 loss to Montreal Saturday night. Dylan Larkin was also roughed up, but he returned to finish out the game. Throw in Jimmy Howard, who was hurt Friday evening against New Jersey, and it's been a rough stretch for Detroit in terms of losing player to injury. The Detroit Free Press' Helene St. James reports that Tomas Jurco is about ready to return, but he too, has suffered his fair share of setbacks.
General manager Ken Holland believes that Jurco will be cleared to play in Tuesday's contest against Dallas, but St. James writes that Jurco's back continues to be a question mark. After surgery this summer, Jurco's back flared up during his conditioning stint with AHL affiliate Grand Rapids on Friday. Doctors checked him out, and believe he will be alright for Tuesday's contest against Dallas.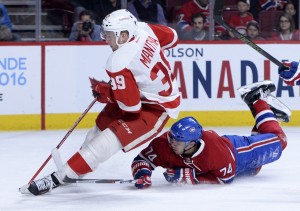 St. James adds that reports on Smith and Bertuzzi's injuries won't be available until Monday. In addition to the aforementioned Wings, Andreas Athanasiou, Alexey Marchenko, and Darren Helm are missing from the lineup.  As it stands, the Red Wings lead the league in man-games lost with 140, and the number will certainly rise after yesterday's tilt.
In other Red Wings news:
Anthony Mantha has been impressive in his callup to Detroit, sniping a pair of goals that have made the highlight reel. In seven games, Mantha has four points (2-2).  Jean-Francois Chaumont spoke with Holland and it sounds as if Holland is still willing to give the nod to a veteran. (The article is in French but can be translated into English). Holland complimented Mantha's play and his significant improvement since his days in junior hockey, but stopped short of saying his spot in Detroit is secure. Chaumont believes that Mantha will become a top scorer, and others, like Winging It In Motown's Prashanth Iyer, show the advanced stats that reveal Mantha's strong play in his first seven games with Detroit.
Add the Detroit News' Gregg Krupa to the list of pundits who believes that Mantha is a star in the making. Krupa indicates that Mantha brings the size, scoring, and speed that will light the lamp often. Krupa also defends Holland's decision to keep Mantha in Grand Rapids:
While praising the Wings brass these days for anything is only occasionally warranted, and fraught with the risk of targeting on social media, the fact of the matter is Holland and Devellano were right about Mantha's performance and wise to make it plain to the player, perhaps even in publicly prominent ways. And Jeff Blashill gets the primary assist for knowing the player well enough to decide when he could play regularly with Henrik Zetterberg and supply puck retrieval and possession skills, which are as intrinsic to Mantha's role as his ample finishing skills.
Krupa is careful to emphasize (after heaping praise on an oft-maligned front office) that the Red Wings would be hard pressed to send Mantha back down once the team is healthy again. Regardless of what the front office chooses to do, Mantha certainly has a large number of supporters who want him to stay in Detroit permanently.
Photo courtesy of USA Today Sports Images