After fourteen years and 747 career games, veteran forward Travis Moen has announced that he will retire from professional hockey. The 34-year old from Stewart Valley, Saskatchewan hadn't found a job this season after spending the last two seasons playing sporadically with the Dallas Stars.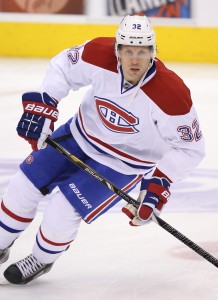 Moen is perhaps best known for his shutdown play alongside Sami Pahlsson and Rob Niedermayer en route to the 2007 Stanley Cup with the Anaheim Ducks. Their play helped the Ducks run roughshod over the rest of the league in those playoffs, losing only five games total. Moen actually was credited with the Cup-winning goal, though it was put into the net by Chris Phillips in one of the biggest NHL bloopers of all time.
The winger would then spend time with the San Jose Sharks before playing for the Montreal Canadiens for parts of six seasons. Though his offensive game never hit that 2006-07 high again, he remained an effective penalty killer and bottom-six checking forward for much of his time there.
Across the 747 games, Moen scored 59 goals and 136 points. He played in a whopping 83 playoff games, adding 19 points and 61 penalty minutes. Always playing with an edge, and willing to drop the mitts at a moment's notice, it wouldn't be surprising to see him move into a coaching role one day, as many checking forwards have before.