Tampa Bay forward Steven Stamkos is heading to Vail, Colorado today to undergo arthroscopic knee surgery to repair a lateral meniscus tear, reports TSN's Bob McKenzie (Twitter link).  While the Lightning are officially saying he's out indefinitely, McKenzie adds in a follow-up tweet that the recovery period for this type of surgery is typically four months, if not longer.  The injury was suffered in Tuesday's victory over Detroit.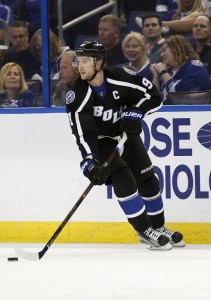 This is undoubtedly a huge loss for the Lightning as Stamkos not only has been one of their top scorers this year but also is near the top of the league in points.  Through 17 games this year, he has nine goals and 11 assists despite averaging nearly two minutes less per game compared to last season.
Injuries have not been kind to Stamkos, who is in the first of an eight year deal with a cap hit of $8.5MM signed late in June to avoid free agency.  In 2013-14, he missed more than half the season with a fractured tibia and just last season, he had surgery to repair a blood clot near his collarbone.
Given that he will be out until around March at the earliest based on McKenzie's timeline, the Lightning are eligible to place him on Long-Term Injury Reserve to free up some cap space to pursue a short-term replacement, should they deem that necessary.  In the meantime, it's likely that center Valtteri Filppula will be asked to move into a top six role for Tampa Bay.
[Related: Lightning Depth Chart]
Photo courtesy of USA Today Sports Images.