After rumors circulated earlier this month about the problems the NHL has had in producing the smaller, form-fitting goalie equipment it promised for this season, Jonas Siegal of the Associated Press has a new article up in the Winnipeg Free Press confirming our suspicions. In it, Siegal goes in detail on the problems in manufacturing and testing the league has had since they announced in March that they would be reducing the size of the equipment to provide a more level playing field for goaltenders.
Mathieu Schneider, a special assistant for the NHLPA who is part of the team assigned to the project, spoke candidly in an interview with the Canadian Press:
I wish no one said that we were going to have this ready for this season because I think that was an aggressive timeline to say that we would have that done. Given where we are now and given some of the challenges we've had to face, I'm 100 per cent confident that we're going to achieve our goal, but I'm not sure if and what parts we're going to be able to try to implement this year."
Schneider of course, is referring to the goal of forcing goaltenders to play with pads that are more form-fitting instead of making them as large as possible. Siegal notes Cory Schneider and Braden Holtby, both well over six foot, two-hundred pounds as proponents of the new equipment which would seemingly punish smaller goaltenders who bulk up as much as they can.
The NHL has tried for years to put limits on goaltender equipment, believing it is one of the biggest causes to the downturn in offense over the past few decades.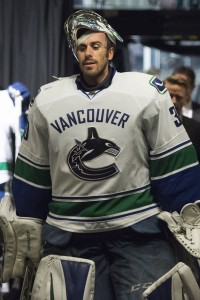 Always testing out new ways to make the game more exciting for fans around the world, goalies like Ryan Miller (168 lbs, pictured) and Marc-Andre Fleury (180 lbs) have often been used as examples for the need for new restrictions.
"You see guys look like absolute monsters on the ice. It's nuts. You can have guys weigh 175 and they look like a 300-pound sumo wrestler out there." said Sabres goalie Robin Lehner back in March, who claimed that the 223 lbs he was listed at last season was probably about twenty pounds light.
If the league and players union can eventually come to some sort of consensus on the design of the equipment, perhaps it will lead to increased offense, and perhaps not. One thing it's sure to do, is make goaltending a more even battleground for players of all sizes – Miller and Fleury would still be wonderful goalies because of their quickness and agility, while bigger goaltenders would truly have the size advantage once again.
Photo courtesy of USA Today Sports Images.