The Buffalo Sabres have had a roller coaster of an offseason. While the team successfully brought in Kyle Okposo and Dmitry Kulikov to shore up two weaknesses, they've also had the headaches caused by Evander Kane's continuing legal issues, and were spurned by Jimmy Vesey after trading a third-round pick to obtain his negotiating rights. Now, you'd think all their attention would be on re-signing their two remaining restricted free agents, starting with their stud defenseman Rasmus Ristolainen.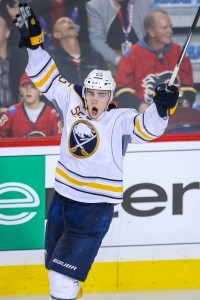 Not so fast, as according to Sami Hoffren of Urheilusanomat (a Finnish sports publication) Ristolainen told him he or his camp "haven't heard anything in a while" from the Buffalo side regarding a new contract and doesn't expect to sign anything during the World Cup; Ristolainen is competing for Finland in the upcoming tournament.
After being drafted eighth overall in 2013, Ristolainen has shown a steady progression into one of the better right-handed defensemen in the league. With 41 points last season, he led the Buffalo blueline and ranked 23rd in the league among defensemen. Going forward, the 21-year old will be looking for a substantial bump if he's to sign long-term, as he's proven his ability at this level over the past two seasons.
Buffalo also has Zemgus Girgensons, another former first round pick who took a step backwards last season left to sign. Girgensons only scored 18 points after two consecutive seasons with at least 22, including a 15 goal output in just 61 games in 2014-15.  Both players should eventually re-sign, but it is getting later and later into the summer without any news.  The Sabres have just over $8MM in cap space currently, more than enough to get both under contract.
Photo courtesy of USA Today Sports Images.