Jakub Nakladal entered this off-season as a relative unknown among hockey fans (and maybe even some teams), but was considered by some to be a dark horse candidate for this summer's best value signing. A 28-year-old rookie with the Calgary Flames in 2015-16, the 6'2″, 212 lb. Czech native played in only 27 games last season. In his brief showing, he played about 14 minutes per game and managed to record two goals and three assists.
At first glance, the numbers are nothing to get too excited about. A closer look reveals otherwise though; Nakladal was actually a very capable and productive player for the Flames. The "HERO chart" below displays that not only was he an outstanding possession player by Corsi standards, who created offense and made his team mates better, but he was also a solid  defensive presence. In fact, by statistical standards, Nakaladal played as well as an average top-four defenseman last season. If you don't trust the numbers, trust the people. A good measure of a free agent's ability and value is how much the fan base wants him back. Social media will tell you that Flames fans would very much like to see Nakladal return to Calgary, though the team's depth makes that unlikely. If the fans who watched him play believe he is worth having, he likely is. Other fans have caught on as well. As the market has slowed to a crawl in these last few weeks and the list of available names continues to shrink, Nakladal's name has resurfaced as seemingly every fan's top PTO target.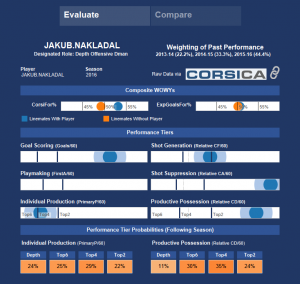 Regardless, Nakladal remains unsigned. Perhaps his 27 games were not enough for other NHL teams to get a good read on him. It's also possible that his strong possession statistics could be perceived as skewed because of too few minutes. Maybe yet another reason is that executives are simply not clamoring to acquire a player who could be 30 before he plays in 100 NHL games. For some reason or another, the market for Nakladal's services has not formed yet. With only so many names remaining, it seems like a matter of time though.
Potential Suitors
It is very unlikely that Nakladal will be handed a top-four position, or even a top-six gig at this point. Few teams are still looking to make additions with training camp right around the corner. However, his market value is clearly low and his ceiling appears to be high, making the risk to teams still looking around for talent very low. At the very least, he is a capable player who could be a reliable seventh or eighth defenseman with enough upside to crack the starting lineup or who could also be a valuable AHL stash. An added benefit is that he is also a right-handed shot. Teams looking to balance their defensive depth or who simply lack depth and are willing to take a shot on a skilled player, should be taking a long look at Nakladal as the summer winds down. The Boston Bruins, for example, have three right-handed defensemen with NHL experience in Kevan Miller, Colin Miller, and veteran Adam McQuaid, but only Kevan Miller managed to stay in the starting lineup throughout the 2015-16 season. The New Jersey Devils have also been speculated to be looking for a right-handed shot, after trading away Adam Larsson left only Damon Severson and new addition Ben Lovejoy as righties on the line. Add the Carolina Hurricanes, Dallas Stars, Edmonton Oilers, Ottawa Senators, Washington Capitals, and Vancouver Canucks to a list of teams that could be helped and certainly not hurt by adding an affordable puck-moving defenseman, and Nakladal's availability seems even stranger.
Expected Contract
The calendar flips to September tomorrow, and contracts at this point in the off-season are impossible to predict. Who would've guessed that Boston would sign Dominic Moore to a guaranteed deal yesterday with six proven centers already on the roster? Nevertheless, deals do get done, even as the summer draws to a close. Much like the situation with James Wisniewski (if he's healthy) in Tampa Bay, some lucky team might have the chance to strike gold by extending a Professional Tryout Offer to Nakladal. Considering the possibility that Nakladal has yet to really reach his potential, given what limited play time he saw last year, an even better move might be to just sign him to a short, cheap contract and ensure that no one else can take him off your hands. Whether signed off of a PTO or guaranteed right away, Nakladal should end up on an NHL roster to the tune of $800K or so. Unless they have a lot of faith in young stud Brandon Carlo or really want to play both McQuaid and K. Miller every night, bet on the Bruins, who have cap space and roster space, to make another move and take a chance on Nakladal in 2016-17.