The Toronto Maple Leafs are entering a new era in the team's history, replacing Kyle Dubas with Brad Treliving as the team's general manager, and appointing Shane Doan to Jason Spezza's special assistant role. These changes bring a culture shift and a new face in negotiations – something that's already proving beneficial, with Auston Matthews signing a contract extension and William Nylander working towards a new deal. It's also helped Toronto in the free-agent market, with big names coming in to fill the holes left by key departures. The Leafs enter the season with a strong roster, on paper, but they'll need multiple players to embrace their newfound opportunity if they want to maintain the success they found last season.
Draft
1-28: F Easton Cowan, London (OHL)
5-153: F Hudson Malinoski, Brooks (AJHL)
6-185: D Noah Chadwick, Lethbridge (WHL)
The draft didn't represent much of a test for Brad Treliving, who only had one pick in the top 150 of the draft. But even with one pick, Treliving found a way to make noise – drafting a player that many public scouting services viewed as a high-mid round pick in the First Round. And while the pick remains hotly debated, Cowan may have earned the title of 'biggest eye-opener' out of the team's training camp. He's recorded one goal and two assists in two preseason games and looked solid throughout team skates, bringing credence to Toronto's faith in him. He'll return to the London Knights this season, looking to add next-level talent to a skillset that already looks natural in professional systems.
Toronto also brought in Malinoski, a re-entry forward who appeared on the Brooks Bandits second-line last season – his first year of juniors hockey – as well as Noah Chadwick, who played his first full season in the WHL last year. Interestingly, both players spent their 2021-22 playing in 18U hockey in Saskatoon, Malinoski with the Blazers, and Chadwick with the Contacts. The duo adds depth to Toronto's center and left defense depth charts, both areas of need for the NHL club.
UFA Signings
D John Klingberg (one year, $4.2MM)
D Marshall Rifai (two years, $1.6MM)*
D Maxime Lajoie (one year, $775K)*
D William Lagesson (one year, $775K)*
F Ryan Reaves (three years, $4MM)
F Max Domi (one year, $3MM)
F Tyler Bertuzzi (one year, $5.5MM)
F Dylan Gambrell (one year, $775K)
D Simon Benoit (one year, $775K)
G Martin Jones (one year, $875K)
* indicates a two-way contract
The Leafs spent a combined $12.7MM on one year of John Klingberg, Tyler Bertuzzi, and Max Domi this off-season, spending big to patch holes at the top of their lineup. And while certainly on rich deals, all three players have the opportunity to be difference-makers quickly. Domi and Bertuzzi should get a full run at top-six minutes with the team's forward group, while Klingberg's upside could be as high as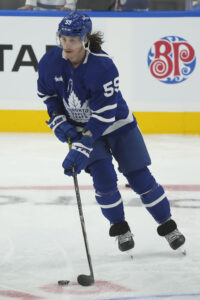 playing on the top defensive pair.
Klingberg's addition offers the Leafs one of the more solid blue lines they've iced in recent years. The 30-year-old defender has taken a step back in the latter half of his career, largely a result of a reoccurring bout with injuries. Klingberg hasn't played in 75-or-more games since 2017-18, getting moved to injured reserve in each of the three subsequent seasons. But he does offer high-scoring upside, averaging 54 points-per-season over the course of his nine-year NHL career. He did miss parts of training camp with injury, fueling skeptics – although reports shared that his absence was largely precautionary. But if Klingberg can return to the dangerous form he possessed early in his career, he could be an X-factor for this Toronto lineup.
Domi and Bertuzzi bring similar impacts to the lineup: both gritty and physical forwards with solid scoring upside but concerns around injury history and discipline. Domi's the volume shooter of the two, recording 179 shots last season. And while Domi hasn't found consistent scoring in recent years, he did net 28 goals and 72 points in the 2018-19 season. That gives Toronto a fine-enough replacement for Michael Bunting in the team's high-volume top-six. Bertuzzi brings more balance to the forward group, recording an impressive 30 goals and 62 points in just 68 games during the 2021-22 season. He lost that edge a bit last year but still flexes great upside. Toronto is needing to get creative with their top-six to fit in both Bertuzzi and Domi – doing things like moving Nylander to center – but if they can find a way to bring both players back to their former glory, it could give the team a scary forward group.
And while potentially impactful, these three signings didn't raise eyes like the Leafs' signing of 36-year-old Ryan Reaves did. In an effort to add the team's obligatory enforcer, Treliving signed Reaves to a one-way deal that carries Reaves through his age-38 season, with a $1.35MM cap hit. This contract isn't outrageous but it's an interesting allocation of cap for a team already carrying Kyle Clifford. How Reaves slots into the day-to-day lineup will be interesting to follow, with the similarly-deployed Wayne Simmonds only appearing in 18 games last season.
The team rounded out free agency with a slew of attractive depth pieces, bringing in consistent bottom-six help in Gambrell and giving a second chance to players like Lagesson and Lajoie. It's not certain whether any of these depth signings will impact the NHL roster but their additions provide comfortability behind the team's main guys.
Key RFA Re-Signings
F Pontus Holmberg (two years, $1.6MM)
F Nick Abruzzese (two years, $775K)*
G Ilya Samsonov (one year, $3.6MM)
The Leafs RFA signings fail to jump off of the page. Ilya Samsonov is undoubtedly the most notable re-signing, giving the Leafs their starting goalie for at least the next season. Samsonov needed to file for salary arbitration to get a deal done, despite a clear path to the starter's net, which could make for an interesting negotiations come next summer. Toronto also locked in low-cost, high-upside wingers in Holmberg and Abruzzese, likely to give both players a chance to earn a bigger contract in their next round of negotiations.
Key Departures
D Filip Kral (Lahti, Liiga)
D Mac Hollowell (New York Rangers, one year, $775K)*
D Victor Mete (Philadelphia, one year, $775K)*
F Alexander Kerfoot (Arizona, two years, $7MM)
D Carl Dahlstrom (Färjestad, SHL)
D Erik Gustafsson (New York Rangers, one year, $825K)
G Erik Kallgren (New Jersey, one year, $775K)*
D Jordie Benn (unsigned UFA)
D Justin Holl (Detroit, three years, $10.2MM)
D Luke Schenn (Nashville, three years, $8.25MM)
F Michael Bunting (Carolina, three years, $13.5MM)
F Noel Acciari (Pittsburgh, three years, $6MM)
F Radim Zohorna (Pittsburgh, one year, $775K)*
F Ryan O'Reilly (Nashville, four years, $18MM)
F Wayne Simmonds (unsigned UFA)
F Zach Aston-Reese (unsigned UFA)
F Semyon Der-Arguchintsev (Traktor, KHL)
* indicates a two-way contract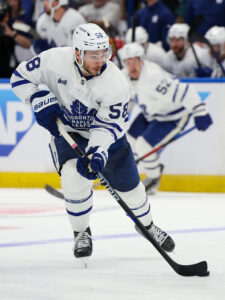 It's impressive to see how strong of a lineup the Leafs are entering the season with, given the fact that they lost nearly a full lineup in NHL talent over the summer. Ryan O'Reilly and Michael Bunting headline the group – two top-of-the-lineup forwards, one boasting great goal-scoring upside and the other being a consistent standout for the Selke Trophy. They're joined by middle-of-the-lineup pieces in Alexander Kerfoot, Luke Schenn, Noel Acciari, and Justin Holl – all getting modest deals in new locations fairly quickly. Interestingly, it was Kyle Dubas that signed Acciari and Radim Zohorna in Pittsburgh, bringing both forwards with him as he left Toronto.
Losing this much solid lineup talent could be enough to send a team into a panic. But Toronto's lucrative signings of Bertuzzi, Domi, and Klingberg help patch holes in the top-end, while young depth pieces like Abruzzesse finally vie for a roster spot in the wake of changes to the bottom-six. The ability to handle such great turnover speaks to Toronto's impressive depth and Treliving's ability to bring in top free agents, and the team will remain competitive this year as a result.
These departures don't represent a blow to the Toronto lineup as much as they represent boosts to the Leafs' competition. Bunting brings even more volume and scoring to an already-strong Carolina Hurricanes lineup and O'Reilly could be the solidifying piece that the Nashville Predators needed. If, and how, these signings could impact Toronto's push for the playoffs and Stanley Cup will be notable, even with the team's ability to fill their holes.
Salary Cap Outlook
Toronto is, once again, pushing the boundaries of the NHL's cap ceiling. The team will have just enough money to enter the season, after moving Jake Muzzin and Matt Murray to long-term injured reserve,  but they'll likely still need to move on from one or two players to make enough breathing room for the rest of the year. But if there's any team that can handle a tight bind with the cap, it's Toronto.
Key Questions
Can The New Additions Fit In? If the Leafs end up making a run for the Cup, it'll likely be largely thanks to their free agent signings. Bertuzzi, Domi, and Klingberg all represent really exciting upside, and seem to be passionate about getting a chance to play for Toronto. How each of them can embrace the new setting, cushier roles, and increased attention will be one of the biggest storylines of the year. This season could represent an explosive return to form, marked by impressive scoring totals, or another slide in already-slipping careers.
Who Will Be Starting By The End Of The Year? Ilya Samsonov has a clear hold over the starter's net entering the season. But if he can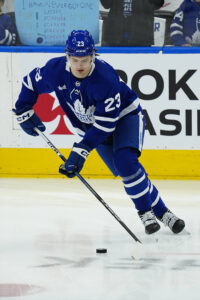 maintain that grip is yet to be seen. Not only does backup Joseph Woll offer competition – posting a .932 save percentage through seven NHL games last season – but the health of all Toronto goaltenders has warranted questioning in recent years. Samsonov himself battled plenty of injuries throughout last year, even missing time in the postseason with an upper-body injury. Reports out of training camp share that he's back up to speed but with little goalie depth behind him and Woll, Toronto could be at risk of another stressful year between the pipes.
What Impact Will Matthew Knies and Nicholas Robertson Make? The Leafs should be adding two potential heavyweights to their roster full-time this season, in Matthew Knies and Nicholas Robertson. Both players have some form of NHL experience, with Knies playing 10 games between the regular season and playoffs last year and recording five points; while Robertson has recorded 31 career NHL games and seven career points. In a lineup flanked by free agent additions and open roster spots, Knies and Robertson should have every opportunity to show their worth. If they live up to the hype, they could be pivotal pieces of the Leafs roster for years to come.