The United States Hockey Hall of Fame will induct former NHL forwards Dustin Brown and Jamie Langenbrunner, longtime NHL executive Brian Burke, former Olympian and longtime Boston College women's program head coach Katie King Crowley, and former NHL linesman Brian Murphy as their class of 2023, according to an announcement this morning.
The captain of the Los Angeles Kings from 2008 to 2016, Brown's power-forward style translated into an 18-season, 1,296-game NHL career spent entirely with the Kings. Leading Los Angeles to Stanley Cup championships in 2012 and 2014, he amassed 325 goals and 387 assists for 712 points in his career, scoring at least 20 goals and 50 points in a single season seven times. Among American NHL players, he sits seventh in the games played category, although he's likely to be bumped down to eighth by Phil Kessel this season.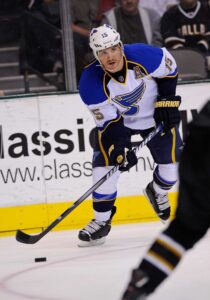 Langenbrunner, a two-time Stanley Cup champion and two-time Olympian, played 16 seasons in the NHL. Born in Cloquet, Minnesota, Langenbrunner was well-known for his positional versatility with the Dallas Stars, New Jersey Devils, and St. Louis Blues. Across 1,109 NHL regular-season games, the forward amassed 663 points, including 243 goals and 420 assists. He also became quite a seasoned playoff performer, recording 146 career postseason appearances and 87 points.
Selected 35th overall in the 1993 NHL Entry Draft, Langenbrunner debuted with the Stars in 1995 and later captained the Devils from 2007 to January 2011, when he was dealt back to where his career began in Dallas. He transitioned to hockey operations post-retirement and serves as an assistant general manager for the Boston Bruins.
Burke has a Stanley Cup victory and an Olympic silver medal on his managerial resume, which spans nearly 40 years. Raised in Edina, Minnesota, he played college hockey for the Providence Friars and later in the AHL with the Maine Mariners, winning a Calder Cup. He then attended and graduated from Harvard Law School, after which he ventured into NHL player representation.
Burke's journey led him to the Vancouver Canucks' front office, where he served as director of hockey operations from 1987 to 1992. He then assumed roles with the Hartford Whalers and the NHL office before returning to Vancouver as their general manager in 1999. Burke's Stanley Cup win came at the helm of the Anaheim Ducks in 2007. His managerial tenure continued with the Toronto Maple Leafs as GM and the Calgary Flames as their president of hockey operations, followed by a short two-and-a-half-year stint with the Pittsburgh Penguins. Today, Burke serves as the inaugural executive director of the PWHLPA.
King Crowley, a three-time Olympic medalist, achieved rather legendary status during her nine-year tenure with the U.S. Women's National Team from 1997 to 2006. Notably, she was pivotal in securing the inaugural gold medal in women's ice hockey at the 1998 Nagano Olympics, amassing eight points in six games. She further contributed to Team USA's Olympic success with a silver in 2002 and a bronze in 2006, boasting a total of 14 Olympic goals, which remains tied for the U.S. record with new PWHL Minnesota general manager Natalie Darwitz. In the IIHF Women's World Championships, including a gold in 2005, King Crowley played 223 games, ranking third in all-time points (278).
Following her retirement as a player in 2006, King Crowley transitioned to coaching, joining Boston College's women's ice hockey program. She would assume the head coaching role in 2007, guiding the team to numerous accolades, including six NCAA Frozen Fours, 11 NCAA Tournaments, five Hockey East regular-season titles, three Hockey East tournament championships, and six Beanpot crowns. She's also served as an assistant coach for the U.S. U18 Women's National Teams, contributing to gold in 2009 and silver in 2010 at the IIHF U18 Women's World Championship.
Lastly, Murphy, hailing from Dover, New Hampshire, boasts an exceptional NHL officiating career spanning 32 years from 1988 until his recent retirement in 2020. He is among only eight individuals and one of two Americans to officiate over 2,000 NHL regular-season games. Murphy's on-ice career includes nine Stanley Cup Finals and 304 playoff games, and notable events like the 1999 NHL All-Star Game and the 2010 Winter Classic. He also served as president of the NHL Officials Association from 2008 to 2015. Today, he serves as the supervisor of men's officials for Hockey East.
This year's induction ceremony will be held in Boston on December 6.