For only the second time in the last decade, the St. Louis Blues failed to make the Stanley Cup playoffs. In a disappointing season seeing them finish sixth in the Central Division, and 12th in the Western Conference, the Blues moved on from big-name players such as Vladimir Tarasenko and Ryan O'Reilly at last year's trade deadline.
Now, St. Louis will be leaning more into their young stars, such as Jordan Kyrou and Robert Thomas. However, even after some notable additions this offseason, the Blues will still have an uphill battle to return to the Stanley Cup playoffs out of the Western Conference in the 2023-24 NHL season.
Draft
1-10: F Dalibor Dvorsky, AIK (HockeyAllsvenskan)
1-25: F Otto Stenberg, Frolunda HC (SHL)
1-29: D Theo Lindstein, Brynas IF (SHL)
3-74: D Quinton Burns, Kingston (OHL)
3-76: F Juraj Pekarcik, HK Nitra (Slovakia)
4-106: F Jakub Stancl, Vaxjo HC (SHL)
5-138: D Paul Fischer, USNTDP (USHL)
6-170: D Matthew Mayich, Ottawa (OHL)
7-202: F Nikita Susuyev, Spartak (KHL)
Putting quite an importance on building up their long-term center depth at this year's draft, the Blues' first selection, Dvorsky, should provide the team with just that. In some pre-draft boards, Dvorsky was seen going as high as sixth overall to the Arizona Coyotes, giving St. Louis the benefit of not having to reach for a center early in the first round. Last season playing for AIK, Dvorsky would suit up in 38 games for AIK, scoring six goals and 14 points.
On the latter two of their first-round selections, there were much more mixed reviews surrounding Stenberg and Lindstein. Lindstein is through-and-through a defense-first defenseman and should be a safer bet than Stenberg long-term for the Blues. Stenberg was not a bad selection for St. Louis by any means but did show some cause for concern in his first year of professional hockey in Sweden. Playing mostly against players much older than him, Stenberg only suited up in 23 games for Frolunda HC last season, scoring one goal and two assists.
UFA Signings
D Joshua Jacobs (one year, $775K)*
D Wyatt Kalynuk (one year, $775K)*
F Mackenzie MacEachern (two years, $1.55MM)
G Malcolm Subban (one year, $775K)*
F Oskar Sundqvist (one year, $775K)
*-denotes a two-way contract
Without much in the way of salary cap space due to the long-term extensions for both Kyrou and Thomas kicking in this year, the Blues mostly spent their dollars on forwards that could potentially help in the team's bottom six, as well as defensemen and goaltending depth for their AHL affiliate. Sundqvist is the only free-agent acquisition likely to crack St. Louis' roster out of camp, as he should be extremely familiar with the style of play in the organization, given his five-year run with the Blues from 2017-2022.
Most of these UFA signings will directly impact the Springfield Thunderbirds, who will look to make the Calder Cup playoffs for the third season in a row. Defense being the team's biggest strength, they were able to finish ninth in the AHL in goals against last year, a statistic that Jacobs, Kalynuk, MacEachern, and Subban should all help continue. Now two years removed from reaching the Calder Cup Finals, the Thunderbirds could be a team to watch in the AHL yet again for the 2023-24 season.
Trade Acquisitions
F Kevin Hayes (acquired from Philadelphia)
A cousin of Blues legend, Keith Tkachuk, Hayes should shore up the void left by O'Reilly at the center position in St. Louis. Signing a massive seven-year, $50MM contract with the Philadelphia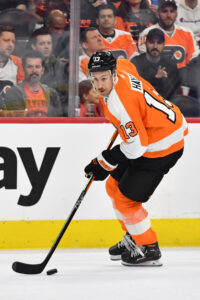 Flyers back in 2019, Hayes' career in Philadelphia came to a close after regularly disagreeing with head coach John Tortorella. In his last season for the Flyers, Hayes would actually have one of the best offensive seasons of his career, even after being benched in several games. Playing in 81 regular season games, Hayes would score 18 goals and 36 assists, good for second on the team in scoring. With the Flyers retaining 50% ($3.57MM) of Hayes' contract for the next three seasons, the Blues should get some solid value out of him on the second line.
RFA Re-Signings
F Hugh McGing (one year, $775K)*
D Scott Perunovich (one year, $775K)
F Alexey Toropchenko (two years, $2.5MM)
D Tyler Tucker (two years, $1.6MM)
Handling the would-be RFA status of both Kyrou and Thomas a little over a year ago, St. Louis did not have much in the way of notable RFA candidates this summer. If the rest of the blue line is healthy, Tucker should see limited action, and may even be a demotion candidate as the year continues.
Toropchenko, on the other hand, should see a decent amount of playing time in the team's middle six this season. Playing in 69 regular season games last year, Toropchenko found the back of the net 10 times, while also tallying nine assists. The Blues only gave him about 12 minutes a night last year, and it is reasonable to assume that he will be around that number again, depending on the play of both Jakub Vrana and Kasperi Kapanen.
Departures
F Logan Brown (Tampa Bay, one year, $775K)
F Matthew Highmore (Ottawa, one year, $775K)
D Brady Lyle (Calgary, one year, $775K)
F Tyler Pitlick (NY Rangers, one year, $788K)
D Steven Santini (Los Angeles, one year, $800K)
F Nathan Todd (San Jose, two years, $1.55MM)
Much like their potential RFA candidates, the Blues didn't stand to lose too much this offseason via free agency, especially after moving out O'Reilly and Tarasenko for future assets at the trade deadline. Their most notable loss will come from Pitlick, who played in 61 games for the Blues last season, scoring seven goals and nine assists.
This list could have been longer, however, as it was rumored the club was putting significant effort into moving out the contract of Torey Krug at the beginning of the summer to the Flyers in the Hayes deal, but was unable to include him in the transaction as Krug was able to deny the trade due to the No Trade Clause in his current deal.
Salary Cap Outlook
With a full roster and no LTIR candidates heading into the 2023-24 season, the Blues will have approximately $200K available in cap space, which will turn into $1.37MM in deadline space. Depending on which direction the Blues head this season, they will have plenty of established assets to move out at the trade deadline, and very little cap space to work with if they are hoping to gain a player or two.
Next summer, they will have around $13.4MM coming off of the books, giving them the option to add a few decent players via free agency or trade. If St. Louis is once again out of playoff contention in February/March of 2024, multi-year contracts such as Krug, Brandon Saad, and Nick Leddy could be on the trade block to loosen up even more financial flexibility.
Key Questions
Will They Get Back Into The Playoffs? Last season, the Blues were one year removed from a 109-point season, finishing third in the Central Division, losing in six games in the second round of the playoffs to the eventual Stanley Cup champion Colorado Avalanche. In disappointing fashion, St. Louis was only able to reach 81 points on the year, finishing in sixth place in the Central, finishing well outside the playoff picture. The Avalanche and Dallas Stars project to be the top two teams in the division heading into the upcoming season, but the third spot seems relatively up for grabs. The Minnesota Wild and Winnipeg Jets should still factor into the playoff picture, with the Arizona Coyotes looking more and more like a complete team, giving the Blues a lot to think about concerning their short-term competitive window. Kyrou and Thomas are already stars in the NHL, but the Blues still feel a player away to be considered a playoff lock for next season.
How Will The Team Improve Its Defense? It is true that Jordan Binnington shares a big part of the blame for the Blues finishing 27th in Goals Against last year, given that over a full year, the 2022-23 season was by far the worst of his career. Justin Faulk had a solid season by most standards, but Krug and Colton Parayko took a step back, with Nick Leddy, Robert Bortuzzo, and Marco Scandella continuing to lose the battle with 'Father Time'. Parayko, Leddy, and Krug are all signed for at least the next three seasons, with the team being able to move on from Scandella and Bortuzzo next offseason. If he maintains his health, prospect Scott Perunovich should be able to take one of the spots left by either Scandella or Bortuzzo, but it's beginning to appear the Blues need to make a big-time move for a top-two defenseman, having failed to adequately replace the void left by Alex Pietrangelo.
Photos courtesy of USA Today Sports Images.