Not only did the sophomore year of the Seattle Kraken organization in the NHL result in a playoff berth, but the team was able to impress even further by eliminating the then-defending Stanley Cup champion, Colorado Avalanche, in their seven-game opening-round matchup. Led by emerging star and 2023 Calder Trophy winner Matthew Beniers, as well as a hodgepodge of veteran leaders thanks to the expansion draft, free agency, and well-timed trade acquisitions, this team still has an uphill battle in the Pacific Division.
It was a relatively quiet offseason for the Kraken, who are looking to build on their impressive season last year. Most of the talent acquired this summer primarily came out of the draft, with the team making no trades and largely nibbling around the edges of the free-agent market.
Draft
1-20: F Eduard Sale, HC Kometa Brno (Czechia)
2-50: F Carson Rehkopf, Kitchener Rangers (OHL)
2-52: F Oscar Fisker Molgaard, HV71 (SHL)
2-57: D Lukas Dragicevic, Tri-City Americans (WHL)
3-84: D Caden Price, Kelowna Rockets (WHL)
4-116: F Andrei Loshko, Chicoutimi Saguenéens (QMJHL)
5-148: D Kaden Hammell, Everett Silvertips (WHL)
6-168: G Visa Vedenpaa, Karpat U20 (U20 SM-sarja)
6-180: F Zeb Forsfjall, Skellefteå AIK (SHL)
7-212: F Zaccharya Wisdom, Cedar Rapids RoughRiders (USHL)
Carrying a healthy mix of forwards, defensemen, and goaltenders, as well as a balance between North American and European skaters, the Kraken organization deepened all facets of their prospect cupboards at the 2023 NHL Draft.
The prize of the draft for Seattle, Sale, was one of the better selections in terms of return on investment. Only one year ago, Sale was frequently cited in the top 10 on most draft big boards, scoring 89 points in 39 games during his last season in Czechia's top junior league. Unfortunately, in his first season against more seasoned veterans in Czechia's professional league, Sale was only able to score seven goals and seven assists in 43 games, playing in an extremely limited role overseas. Nevertheless, Sale has all the intangibles to be a top-six forward in the NHL and should have better luck playing for the Barrie Colts this season.
In one of the higher upside swings for the team at this summer's draft, the Kraken were able to select Dragicevic at 57th overall, the highest-scoring right-handed defenseman in the draft. Playing for the Americans last season in the WHL, Dragicevic put up 15 goals and 60 assists in 68 regular season games, showing excellent vision in transition and on the powerplay. There are quite a few questions surrounding his defensive side of the game, but most teams in the NHL would overlook defensive shortcomings for a potential point-per-game blueliner.
UFA Signings
F Pierre-Edouard Bellemare (one year, $775K)
D Connor Carrick (one year, $775K)*
D Brian Dumoulin (two years, $6.3MM)
F John Hayden (one year, $775K)*
D Mitch Reinke (one year, $775K)*
D Jimmy Schuldt (one year, $775K)*
F Devin Shore (one year, $775K)*
F Marian Studenic (one year, $775K)*
F Kailer Yamamoto (one year, $1.5MM)
*-denotes a two-way contract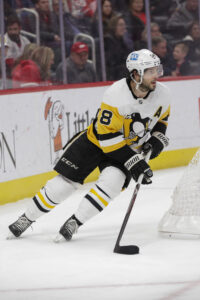 By most metrics, Dumoulin had a subpar season last year with the Pittsburgh Penguins. He was able to earn a career-high in assists (24) and points (25) but did see his CF% dip under career averages with a 45.2% showing, as well as his oiSV% at 88.5%. At only a two-year deal, it's a relatively low-risk deal for the Kraken, who are now able to use Dumoulin to round out their top four and still have many of the blueliners present on the team last season.
One of the more under-the-radar signings not only for Seattle but across the entire NHL this summer is the one-year deal the team handed out to Yamamoto. He was originally acquired by the Detroit Red Wings in a salary dump deal earlier in the summer, and thanks to a buyout on June 30th, Yamamoto entered unrestricted free agency for the first time in his career. At still only 24 years old, Yamamoto still has quite a bit of talent to showcase, and with his offensive capabilities, as well as his above-average speed with and without the puck, should be able to translate smoothly to the Kraken organization.
RFA Re-Signings
D William Borgen (two years, $5.4MM)
D Vince Dunn (four years, $29.4MM)
D Cale Fleury (two years, $1.6MM)
F Kole Lind (one year, $775K)*
*-denotes a two-way contract
Heavily blocked on the depth chart during his time with the St.Louis Blues from 2017-2021, Dunn has thrived since joining the Kraken organization. Based on his last two seasons in Seattle, Dunn is one of, if not the best player selected by the Kraken in the 2021 Expansion Draft.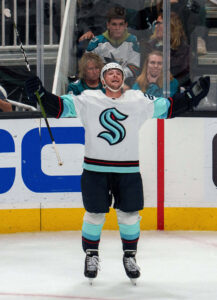 Matching a career-high in points in Seattle during the 2021-22 season, Dunn accelerated into an entirely different form last year, scoring 14 goals and 50 assists in 81 regular season games for the Kraken. Carrying his season momentum into the playoffs, Dunn would score one goal and six assists in 14 games, finishing second amongst defensemen on the team in points. Although the Kraken would have likely wanted to sign Dunn to a longer-term extension, this four-year deal will take Dunn to his age 30 season, giving him ample opportunity to get paid once again in unrestricted free agency.
Departures
F Ryan Donato (Chicago, two years, $4MM)
F Joonas Donskoi (Retirement)
F Morgan Geekie (Boston, two years, $4MM)
D Brogan Rafferty (Detroit, two years, $1.55MM)
D Carson Soucy (Vancouver, three years, $9.75MM)
F Daniel Sprong (Detroit, one year, $2MM)
F Alexander True (Florida, one year, $775K)
Much like Dunn, thanks to increased playing time with the upstart Kraken organization, Soucy was able to turn his career around in Seattle. Becoming one of the more unheralded two-way defensemen in the NHL, Soucy would regularly use his body to make important hits during the game and spend plenty of time on the Kraken penalty kill. The loss of Soucy shouldn't slow down Seattle, however, as the acquisition of Dumoulin should offset much of the lost value.
The Kraken did lose three key middle-six forwards in Donato, Geekie, and Sprong, but the team should once again recoup a lot of the lost value with the acquisition of Yamamoto, and a full season from both Eeli Tolvanen and Shane Wright. As far as departures go for most cap-strapped playoff teams, the Kraken will leave this summer relatively unscathed.
Salary Cap Outlook
With only a little over $900K in cap space to work with for the regular season, the Kraken should be able to add one or two depth pieces at this year's trade deadline, barring any players going on LTIR throughout the season. Next summer, not taking into consideration the eventual increase to the upper limit of the salary cap, the team will have approximately $23.7MM coming off of the books.
A good chunk of that money should go to contract extensions for both Beniers and Alexander Wennberg, with the team having the option to bring back Tolvanen, Yamamoto, Justin Schultz, and Jordan Eberle as well.
Key Questions
Can The Team Rely On Its Current Goaltending? As well as Philipp Grubauer played in the playoffs last year, the regular season was currently not as kind to him. Throughout the regular season, even on a team that won 46 games in the regular season, Grubauer would post a record of 17-14-4, carrying a SV% of .895 and a GAA of 2.85. These are not horrible numbers by any means, but the Kraken should be expecting more from a goaltender they have to pay $5.9MM a season for the next four years. If Grubauer can continue last year's playoff performance into this year's regular season, Seattle will be very comfortable with their goaltending situation. However, if Grubauer is not able to string along his successes, the Kraken do not have much in the way of internal solutions to shore up their goaltending.
Will This Team Make The Playoffs? Although not having a poor team on paper last season, few would have expected Seattle to make the playoffs out of the Western Conference. This season, with raised expectations, they are once again due for a bloodbath in the West. They will have plenty of problems in their own division, as the Vegas Golden Knights, Edmonton Oilers, and Los Angeles Kings are some of the most dangerous teams in the sport, and the Calgary Flames appear poised for some rejuvenation after last year's disappointment. In the Central Division, the Kraken shouldn't have to worry about the Avalanche or the Dallas Stars in the wild-card race but should face some competition from both the Minnesota Wild and Winnipeg Jets. It's once again difficult to project the Kraken as one of the three divisional locks in the Pacific, so they will likely once again be locked into a tight wild-card race.
Photos courtesy of USA Today Sports Images.