The Senators have taken care of another one of their top young talents, announcing that they've signed blueliner Jake Sanderson to an eight-year contract extension that kicks in for the 2024-25 campaign.  The deal carries an AAV of $8.05MM, paid in equal sums each season.  GM Pierre Dorion released the following statement about the signing:
Jake's transition to the pro game has been flawless. He's a very mature young man who demonstrates a routine and skillful ability to play important minutes with poise. An effortless skater who holds himself to a high standard, he has the talent to be one of the best all-around defencemen in the NHL for years to come. We're very pleased to have another significant member of our core group of players under long-term contract.
Postmedia's Bruce Garrioch reported just yesterday that Sanderson had switched agents from Bartlett Hockey to CAA's Pat Brisson and J.P. Barry.  Clearly, it didn't take too long for his new representatives to work out a new deal.
The 21-year-old is coming off an impressive rookie campaign that saw him put up 32 points and 147 blocks in 77 games.  He also ranked second on the Sens in ice time, logging just shy of 22 minutes per game; only Thomas Chabot averaged more.  That performance helped Sanderson finish sixth in Calder Trophy voting.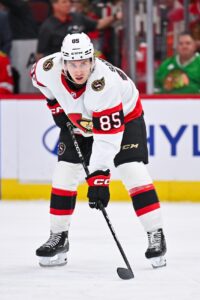 Interestingly, Chabot's deal almost certainly stood as a comparable in discussions.  He checks in at $8MM per season and while Sanderson has less NHL experience (just one season compared to two for Chabot when he signed his contract), the cap has gone up since then.  While Sanderson has the higher cap hit, his cap hit percentage (9.62) actually comes in a bit below Chabot's agreement (9.82%).
Ottawa's young core is all locked in around a similar price point with this extension.  Sanderson, Chabot, Tim Stutzle, Brady Tkachuk, and Joshua Norris are all on long-term agreements ranging from an AAV of $7.95MM (Norris) on the low end to $8.35MM (Stutzle).  That gives them a strong foundation for the foreseeable future.  They now have nearly $74MM in commitments in place for the 2024-25 campaign to 14 players with Vladimir Tarasenko's $5MM contract being the biggest one set to come off the books.
For the upcoming season, Sanderson will still be on the books at his entry-level rate of $925K plus performance bonuses of up to $1.85MM.  Cap space is at a premium for 2023-24 as they have less than $900K in room per CapFriendly with Shane Pinto (and prospect Egor Sokolov) still to re-sign.  Sanderson is likely to hit most, if not all, of his $850K of 'A' bonuses so if the Sens can't free up ample cap space to fit in Pinto's new deal, they could be looking at overage penalties which would carry over to 2024-25.  That's an extra pressure point Dorion will need to be mindful of as he crosses a key item off his to-do list with Sanderson's deal, allowing him to focus on Pinto in the coming days.
Photo courtesy of USA Today Sports Images.