Two years into his career as a Montreal Canadien, it's abundantly clear that Mike Hoffman's three-year, $4.5MM AAV contract from the 2021 free agent cycle hasn't quite worked out as planned for both parties.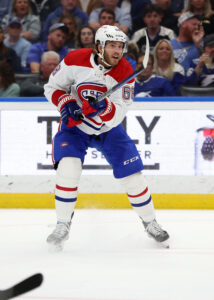 The Canadiens went from Stanley Cup finalist the season before Hoffman's arrival to NHL basement-dweller after his signing, kicking off an organizational rebuild that saw the departure of the GM who inked Hoffman to his deal, Marc Bergevin.
Hoffman, who is set to turn 34 in November, saw his production decline as he went from scoring at a 27-goal, 57-point 82-game pace with the St. Louis Blues to an 18-goal, 42-point 82-game scoring rate in Montreal.
It's likely that Montreal is feeling some buyer's remorse after sinking $4.5MM AAV into a player who had six consecutive seasons of 20 or more goals from 2014 to 2020 and has only scored 15 in each of his two seasons with the Canadiens.
That price tag is made all the more regrettable given the flat-cap environment the NHL still finds itself navigating, where cap space is held at an absolute premium.
Now, despite serving as a rare veteran scorer in Montreal who has been relatively healthy over the past two years, it appears Hoffman's grip on an NHL job in Montreal could be weakening. In a mailbag completed by The Athletic's Arpon Basu, Basu writes that "there's a very real possibility [Hoffman] gets waived and assigned to Laval." (subscription link)
Basu's rationale is that the Canadiens have a growing group of young forwards the Canadiens will want to offer prime player development opportunities at the NHL level, and he doesn't think "Canadiens management is willing to allow a development opportunity pass them by with the slight hope that playing Hoffman could lead to a trade at the deadline."
It would certainly be a bit of a drastic step to see Hoffman waived and playing in Laval (it's extremely unlikely he would be claimed at a $4.5MM cap hit), though it's not without precedent in Montreal. Another former marquee Canadiens UFA signing, Karl Alzner, spent two seasons in Laval after the value he provided on his $4.625MM AAV free agent contract went up in flames due to on-ice regression.
Hoffman is a pure goal scorer who despite improved underlying metrics from last season offers little in the way of defensive value and a highly limited ability to play in a role on a checking line. Unless an injury hits before opening night, the Canadiens are highly likely to reserve top-nine forward roles for Cole Caufield, Nick Suzuki, Josh Anderson, Alex Newhook, Kirby Dach, Brendan Gallagher, Juraj Slafkovský, and Sean Monahan.
That would leave Hoffman battling for one final top-nine slot against Rafaël Harvey-Pinard, who matched Hoffman's goal total last season despite playing just 34 games, Jesse Ylönen, who flashed some offensive potential late last season and is waiver-eligible for the first time in his career, and prospects such as Sean Farrell, Josh Roy, and Emil Heineman.
One has to believe that with player development being of paramount importance to the Canadiens' plans under head coach Martin St. Louis, one of those names will end up the Canadiens' preference for that last top-nine spot over Hoffman.
Montreal could then keep Hoffman in the press box as a 13th forward, though that would require placing Christian Dvorak on injured reserve or exposing fan favorite Michael Pezzetta to waivers. And even if the club keeps Hoffman on the NHL roster in Dvorak's absence, he's expected to return to full health relatively early in the season anyway which could force the club to choose between waiving Hoffman or Pezzetta.
Taking this whole roster picture into account, it appears, as Basu suggests, that there is a very real path for Hoffman to be placed on waivers and play in the AHL next season. One injury could, of course, change all of that, and given the Canadiens' injury luck during Hoffman's tenure, it's far from a certainty that the team remains healthy through the training camp and preseason process.
But if that doesn't happen, we could see a former 36-goal, 70-point scorer with over 200 NHL goals on his resume exposed to waivers and playing minor-league hockey early in the 2023-24 campaign.
Photos courtesy of USA Today Sports Images.