Veteran netminder Jonathan Bernier announced his retirement today via an Instagram post. He had not played since early into the 2021-22 campaign with the New Jersey Devils due to a hip injury, which kept him out for the remainder of that year and the entire 2022-23 season.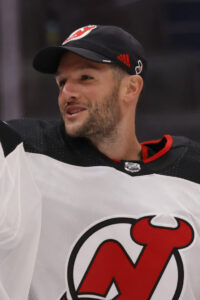 Drafted by the Los Angeles Kings with the 11th overall pick in 2006, Bernier never became the elite full-fledged starter they projected, but he did become a dependable backup or even tandem option during his peak seasons. Some of it was pure circumstance, though – he was stuck behind Jonathan Quick on the Kings' list of goalie prospects and only got his first true shot at shouldering starting responsibility outside of the organization on a weak Toronto Maple Leafs team.
Bernier would go on to play 14 seasons and over 400 NHL games for the Kings, Maple Leafs, Devils, Anaheim Ducks, Colorado Avalanche, and Detroit Red Wings. He finishes with a 165-163-40 record in 363 starts, a .912 save percentage, a 2.78 goals-against average, and 18 shutouts. His peak actually came in his first season as a starter, not earning any Vezina consideration in 2013-14 despite putting up a 26-19-7 record and .922 save percentage in 55 games on a Toronto squad that struggled defensively. His numbers trailed after that, however, and he never got a shot as a full-time starter anywhere else other than his three seasons in Toronto.
Injuries certainly aren't how anyone wants to end their career, especially when Bernier had signed on for two years in New Jersey to aid in their return to playoff contention. Unfortunately, he played just ten games there before the long-term hip injury eventually ended his time in the NHL.
After his stint in Toronto ended on a steep decline in 2016, Bernier went on to become a high-end backup option over the next five seasons – one spent in Anaheim, one spent in Colorado, and three spent in Detroit before joining the Devils. It was a long professional journey for Bernier, who first tasted NHL action with four starts as a 19-year-old with the Kings in 2007-08.
PHR wishes Bernier the best in retirement and any future endeavors.
Photo courtesy of USA Today Sports Images