The Pittsburgh Penguins have made likely their biggest moves of the day. They've signed hulking defenseman Ryan Graves from the New Jersey Devils, according to Sportsnet's Elliotte Friedman. Per a team release, the contract will be a six-year, $27MM contract, earning an AAV of $4.5MM. They've also announced a five-year extension with netminder Tristan Jarry, carrying a $5.375MM AAV. Furthermore, Friedman also reports that the team has brought in goaltender Alex Nedeljkovic as well, signing the young netminder to a one-year, $1.5MM contract.
These are two moves of major significance for the Penguins, especially the Jarry signing. By signing him to this extension, the Penguins have effectively committed to Jarry as the starting goalie for the rest of the careers of Sidney Crosby, Evgeni Malkin, and Kris Letang.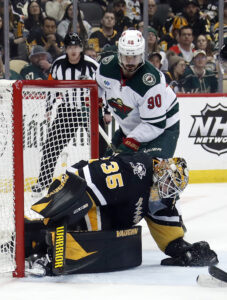 As the goal for Pittsburgh for the rest of their careers is to win the trio one last Stanley Cup, the franchise is effectively betting on Jarry to be a goalie capable of winning the Stanley Cup.
There are reasons to believe Jarry, 28, is up to the task. First and foremost, his 2021-22 season was exceptional (.919 save percentage in 58 games played), as was his 2019-20.
But Jarry has alternated each brilliant campaign with more sluggish ones, and while he still manages above-average numbers in those years they aren't quite up to the quality expected from a goalie occupying a cap hit higher than $5MM.
For Pittsburgh to truly feel good about this signing, not only will Jarry have to have more consistency on a year-to-year basis, he'll also need to prove that some of the playoff mistakes that cost the Penguins a playoff series against the New York Islanders in 2020-21 won't resurface.
As for Graves, his addition gives Pittsburgh an upgrade over the departed Brian Dumoulin both offensively and defensively, as well as in the age department. The 28-year-old left-shot blueliner skates well for his size (six-foot-five, 220 pounds) and plays a respectable two-way game. He averaged around 20 minutes of ice time per night for the New Jersey Devils and was a regular penalty-kill contributor.
Graves will likely pair with either Letang or Jeff Petry, and perhaps Graves' most promising fit is with Petry.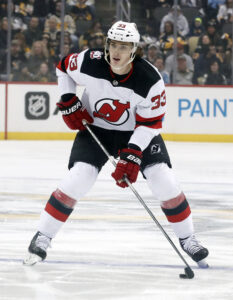 While the Penguins have reportedly been trying to trade Petry this offseason, his $6.25MM cap hit has proven to be a barrier to getting a deal across the line.
The best way to spur a bounce-back season from Petry could be to replicate the environment that saw him achieve so much success with the Montreal Canadiens.
Petry was at his best when partnered with Joel Edmundson, a steady defender whose abilities defensively afforded Petry the freedom to take risks and play more aggressively offensively.
Petry scored at a 63-point pace in 2020-21, largely stapled next to Edmundson, and many would argue that Graves is a better defenseman than Edmundson. So while Graves has definite value on his own, what he might be able to do to rehabilitate Petry's on-ice effectiveness is a major bonus.
As for Nedeljkovic, the 27-year-old was sent to the Detroit Red Wings after a stellar rookie season for the Carolina Hurricanes. He posted a .932 save percentage in 23 games, leading many to believe Carolina had found their "goalie of the future." Carolina wasn't confident Nedeljkovic's numbers were repeatable in a heavier workload, and Detroit found that out for themselves when they installed him as their number-one and he struggled mightily.
Nedeljkovic posted a .901 save percentage in 59 games played in 2021-22 and a .895 save percentage this past season, losing Detroit's backup job to Magnus Hellberg. The hope likely is with this signing that Nedeljkovic can join with incumbent backup Casey DeSmith to form a strong support structure for Jarry, and with a lesser workload potentially get back to somewhere close to the way he played in Carolina.
Photos courtesy of USA Today Sports Images