The Los Angeles Kings have signed captain Anze Kopitar to a two-year contract extension carrying a $7MM AAV. As Kopitar already has a contract through the end of next season, this deal will start with the 2024-25 campaign and will cover Kopitar's age-37 and age-38 seasons.
The deal carries a full no-move clause, and financially Kopitar is set to be paid almost exclusively in signing bonus in year one, and entirely in base salary in year two.
Many viewed the Kings' acquisition of Pierre-Luc Dubois from the Winnipeg Jets as succession planning for when Kopitar would no longer take up the mantle as the Kings' number-one center.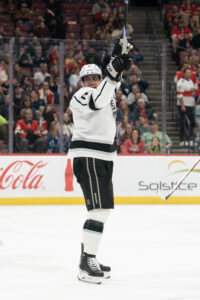 Seeing as fellow era-defining two-way center Patrice Bergeron could be calling it a career at the age of 37, it could reasonably be assumed that Kopitar, set to turn 36 years old in August, would be nearing the end of his storied career as well.
That won't be the case, though, at least for the next three seasons.
By spending $7MM per year on two seasons of Kopitar in his late thirties, the Kings have placed a significant bet that one of their franchise's greatest players will remain a great one even as he ages. It's easy to see why they've made that bet, as Kopitar was almost every bit as brilliant at 35 years old as he was in his mid-twenties.
Kopitar scored 28 goals and 74 points in 82 games in 2022-23, and added seven points in the Kings' six-game first-round series loss to the Edmonton Oilers. As he's done throughout his career, Kopitar paired that offensive production with exceptional defensive play, playing the most minutes of any Los Angeles forward on the team's penalty kill.
The two-time Selke Trophy winner might have a few more of those trophies on his resume had he not had the misfortune of playing at the same time as Bergeron, one of the greatest defensive forwards of all time, and Kopitar's defensive game gives him a high floor in terms of the value he's providing Los Angeles should his offense start to dry up as he gets older.
With Kopitar locked up through 2025-26 at a below-market rate compared to what he provides, the Kings have secured arguably the best set of four centers in the entire NHL. While he's a somewhat divisive player, Dubois is certainly a great fit in a second-line center role behind Kopitar.
Having a center like Phillip Danault, who can score 50 points on offense and routinely appear in the top ten of Selke Trophy ballots, in the third-line center role is the kind of stuff coaches dream about. Even their projected fourth-line center, the energetic Blake Lizotte, might be overqualified for that role coming off of a career-best 34-point season.
With this extension, the Kings have bet on Kopitar maintaining his brilliance into his late thirties. If that bet pays off, the Kings will have secured themselves an embarrassment of riches at one of the game's most important positions, and built the foundation for a team that could very well contend for Stanley Cups once again.
Photos courtesy of USA Today Sports Images