The offseason is now fully underway after Vegas took home the Stanley Cup which means that it's time to examine what each team will need to accomplish over the coming months.  We wrap up our series with a look at what the Golden Knights have left to do.
When team owner Bill Foley talked about winning the Stanley Cup in six years after their expansion team started, the idea seemed far-fetched.  But in the end, that's exactly how it played out as they took out Winnipeg, Edmonton, Dallas, and Florida to take home the title.  GM Kelly McCrimmon is now tasked with trying to keep as much of his Cup-winning core intact as possible.  He has already made some moves that were on the original version of this checklist but here's what's left for them to work on.
Goalie Moves
It's interesting that Adin Hill's reported two-year extension that was reportedly agreed to over the weekend has yet to be registered with the league compared to someone like Ivan Barbashev, whose deal was agreed to and registered on Wednesday.  Speculatively, this could be related to tagging space since LTIR players (like Robin Lehner) count against that limit.  Because we're not in the new league year yet, the tagging rate is 10% above the $82.5MM cap.  In the offseason, you can go 10% above the new cap level, or $83.5MM while offseason LTIR is also an option if needed.
Not registering the deal now gives them some extra flexibility in the short term as they have $1.1MM less in spending allowance before Saturday to fit Hill's contract into.  This likely played a role in Barbashev's deal getting announced only after they moved Reilly Smith.  This isn't anything to be concerned about if you're a Vegas fan as this is just a bit of CBA minutia but they will have to get Hill's contract finalized in the coming days.
Speaking of goalies, they need to make a determination about Lehner's future.  With Hill's pending new contract, it appears that they don't think Lehner will be able to return next season.  If that happens, they can put him on LTIR as they did this past season.  But it's also possible that they want to clear that contract off the books as they did with Shea Weber's deal at the trade deadline.  Deciding if it's worth parting with an asset to free up the contract slot will be a small item on McCrimmon's list.
They will also need to decide if they want to carry a veteran third-stringer behind a tandem of Hill and Logan Thompson which is still relatively inexperienced all things considered.  They've had one in place the last two years with Laurent Brossoit and Michael Hutchinson but among the three other netminders signed for next season, none have any NHL experience while pending RFA Jiri Patera has just two appearances.  This is another small item on the list but with free agency almost here, it's a decision that will need to be made quickly.
Work On Marchessault Extension
It's safe to say that Jonathan Marchessault has worked out well as their expansion pick from Florida back in 2017.  The 32-year-old is their franchise leader in goals, assists, and points and is coming off a playoff performance that saw him lead the league in goals with 13, helping him take home his first Conn Smythe Trophy as playoff MVP.  That's certainly a nice ending to his campaign and will give him some extra leverage as he becomes eligible to sign a contract extension as of Saturday.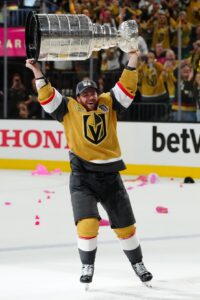 Marchessault signed a six-year, $30MM deal just months into his tenure with Vegas and it has held up well through the first five seasons.  However, it's safe to say that it's going to take a higher AAV for him to put pen to paper on an extension, especially this far out from his free agent summer.  Yes, the Upper Limit of the cap is expected to jump but he turns 33 in December and wingers don't typically show offensive improvement at that time.
Marchessault has reached the 30-goal and 60-point mark just once in the last five years and as he gets older, he should move more into a middle-six role.  Is that a lineup spot that they should be committing a pricey long-term contract to?  On the other hand, he's one of the original 'misfits' and while the Golden Knights have made some moves that could be described as callous along the way, it's possible that they could allow sentimentality to come into play with Marchessault.  At this point, an AAV of around $6MM on a medium-term extension might be needed.  Expect discussions on a new deal to happen at some point this summer.
Try To Create More Cap Space
At the moment, Vegas has around $7.6MM in cap room for next season, per CapFriendly.  That amount includes them using Lehner's full LTIR space and does not count Hill's expected contract, one that is expected to carry an AAV of around $4.9MM.  Basically, they're going to have around $2.7MM at their disposal and that's with a couple of forward spots to try to fill.  It's a manageable situation but is one that would leave them in a spot where they'd have limited flexibility for any in-season activity.  While they're more than used to being in that situation, it's still one that they might want to avoid.
To do that, they're probably going to look at dealing from their defensive depth.  Veteran Alec Martinez has a $5.25MM AAV and one year remaining on his deal.  The 35-year-old is still a serviceable piece but is better served as being more of a depth defender at this stage of his career.  In this market, clearing the full contract would be difficult but even if they're able to move him with some retention, it'd help to free up some wiggle room.
Failing that, they can look to their depth players.  Ben Hutton has an AAV that's just $25K above the league minimum that could be appealing to a team looking for cheap depth.  Meanwhile, prospect Brayden Pachal is now waiver-eligible and if the Golden Knights envision him not breaking camp with them, trying to move him now for a waiver-exempt asset would open up a bit more flexibility.  Doing something like this isn't necessarily a must but a bit more wiggle room on the cap wouldn't hurt.
Decide Howden's Future
Vegas has a couple of RFA forwards to re-sign, center Brett Howden and winger Pavel Dorofeyev.  Dorofeyev's contract should be somewhat straightforward as the youngster only has 20 NHL games under his belt so he'll be signing for close to the league minimum of $775K.  But Howden's will be a little trickier to navigate.
The 25-year-old is owed a $1.5MM qualifying offer by tomorrow's 4 PM CT deadline.  However, the offer also carries salary arbitration eligibility which is something they might want to avoid.  Howden's coming off a quiet year offensively with just 13 points in 54 games but with 279 career regular season appearances under his belt, he has enough of a track record to land a raise in a hearing.  Obviously, Vegas can't afford to give him too much of one.
Do they manage to get something done in the next 24 hours that takes away the arbitration risk?  If not, are they comfortable tendering the qualifier?  Howden is coming off a nice playoff run and is someone they will want to keep around but there comes a point where he's going to cost too much for the role he fills.  He's not all that far from that spot so getting something done soon would certainly be desirable.
Photo courtesy of USA Today Sports Images.