The offseason has arrived for all but the two teams that still have a shot at winning the Stanley Cup.  It's time to examine what those eliminated squads will need to accomplish over the coming months.  Next up is a look at Minnesota.
Despite leading the NHL in dead cap space by a significant margin, the Wild were in the thick of the playoff race at the trade deadline, resulting in GM Bill Guerin opting to add several pieces to aid in what they hoped would be a long playoff run.  Instead, it was an early exit at the hands of Dallas.  The in-season flexibility they had is no more but Minnesota's checklist this offseason involves trying to add proven (and thus, more expensive) players at multiple positions to their roster.
Look For Center Upgrade
This has been a long-standing issue for the Wild going back for years.  They have always had some strong pieces on their roster but finding consistent impact middlemen has been a challenge.  Joel Eriksson Ek is coming along nicely and has become a quality two-way top-six center but isn't a top option.  Frederick Gaudreau has fared better than they could have hoped when they signed him in 2021 but he's not an ideal top-six threat.  Ryan Hartman can play down the middle but is a better fit on the wing while Sam Steel isn't the solution either.
In an ideal world, the Wild find a way to land a top center, filling a long-standing need and giving Kirill Kaprizov a true running mate on the top line.  But realistically, is that achievable?  There aren't any true number one options in free agency and while Winnipeg might have an impact center available on the trade front, would they really move him within the division?  That doesn't seem too likely.
Taking a step down, adding another second-line center, while still a difficult task in this market, would still be a big help.  That would at least allow them to mix and match the newcomer with Eriksson Ek which helps in matchups.  It would also give them a boost offensively after finishing 22nd in the NHL in goals scored.  However, it must be said that they only have about $9MM in cap space per CapFriendly with anywhere from six to eight players needing to fit into that money.  Finding a way to add some proven help down the middle would result in them subtracting from somewhere else on their roster.
Minnesota still likely has high hopes for Marco Rossi, the ninth-overall pick back in 2020.  A natural center, he could eventually fill a spot in the top six.  But that time won't be coming next season after a tough showing that saw him record just one assist in 19 NHL games although he picked up 51 points in 53 games with AHL Iowa.  Down the road, Rossi could be an option but they shouldn't be counting on him for too much in 2023-24.
Re-Sign Gustavsson
Last offseason, Guerin freed up some cap room by moving Cam Talbot to Ottawa for Filip Gustavsson, a move that opened up nearly $2.9MM in flexibility.  The swap certainly carried some risk to it as they went from a proven NHL netminder to one that had all of 27 games of experience with numbers that weren't overly confidence-inspiring.  However, those concerns were unfounded as the 24-year-old had a simply dominant 2022-23 campaign, recording a 2.10 GAA and a .931 SV% in 39 games, ranking him second to only Boston's Linus Ullmark in both categories.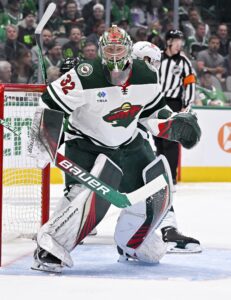 The timing was great for such a showing as Gustavsson is set to become a restricted free agent this summer with salary arbitration rights for the first time.  He's well-positioned to earn a significant raise on the $787.5K AAV he had the last two seasons although, with now just 66 regular season appearances under his belt, it's fair to say that he doesn't have enough of a track record to land true starter money (nor can they afford to give him that).
One question that Guerin will need to answer is how long he wants the deal to be.  Gustavsson is two years away from UFA eligibility while they also have top prospect Jesper Wallstedt waiting in the wings.  A long-term contract is out of the question but is the better play to do a medium-term agreement or a one-year pact that buys both sides more time to assess if his performance was a one-off or a sign of things to come?
The one-year deal would be cheaper (likely somewhere in the $3MM area) but it would also give him a quick ticket to file for arbitration in 2024 and go straight to unrestricted free agency the following year if he wanted.  On the slip side, a contract that buys out a year or two of UFA eligibility would likely push past the $4MM mark but give them a bit of certainty in the NHL with Marc-Andre Fleury's deal up next summer and Wallstedt still a few years away from being ready to push for the starting job.  But can they afford that and accomplish everything else they want or need to this summer?  That could be tricky and ultimately dictate what direction they go with their young netminder.
Zuccarello Extension Talks
While his tenure with Minnesota got off to a bit of a slow start in 2019-20 in the first of his five-year deal, veteran winger Mats Zuccarello has been one of the key producers for the Wild since then.  The 35-year-old has frequently been on a line with Kaprizov and the results were certainly there this season as Zuccarello surpassed the 20-goal mark for the second time while picking up 67 points, the second-most of his career.  His two most productive years have been the last two seasons.  That's certainly a strong selling point heading into extension talks this summer; Zuccarello is eligible for a new deal as of July 1st.
Zuccarello's next deal will be a 35-plus agreement as he'll be starting his age-37 season in 2024-25 but even so, there's a good chance he'll get a multi-year contract.  However, that age is likely to be a mitigating factor when it comes to the cost.  At a $6MM price tag currently, his recent level of production would typically move that AAV higher but it might not in this case.
Some teams have shown a willingness to add on an extra year than they might prefer in return for a lower cap hit and it wouldn't be too shocking to see Minnesota do so here.  They still have two seasons of significant dead cap space from the Ryan Suter and Zach Parise buyouts before those costs dip by more than $13MM.  That would make it easier for them to carry Zuccarello a little longer on their books long-term while his accepting a similar (if not slightly lesser) cap charge now will help their short-term challenges for 2024-25.  This one doesn't have to get done now but as the offseason progresses, it wouldn't be surprising to see the two sides get the ball rolling on discussions.
Add Defensive Help
Minnesota's back end is going to look a bit different on opening night in October compared to the unit that they iced at the end of the first round against Dallas.  Long-time Wild blueliner Mathew Dumba seems all but a lock to move on now following a tough year.  Trade deadline addition John Klingberg was a straight rental and isn't expected to be back either.  On top of that, veteran Alex Goligoski clearly doesn't seem to be a part of their plans moving forward after being scratched more than 30 times during the regular season and the entire first round.  He still has another year left at $2MM and it's likely they wouldn't mind finding a new home for him, assuming Goligoski waives his trade protection.
Additionally, there are questions about Calen Addison's future with the team after he, too, sat in the playoffs.  The 23-year-old had a productive year with 29 points in 62 games and is set to become a restricted free agent for the first time this summer.  He should have some trade value if they decide to move him but that's also going to open up another spot on the back end to fill.
Brock Faber will be around for his first full professional campaign after signing late in the season but there is definitely at least one opening to fill, even if Addison sticks around.  In a perfect world, a top-four blueliner to round out the top three of Jared Spurgeon, Jonas Brodin, and Jacob Middleton but again, that will be tricky given their current salary cap situation.  Guerin is going to have to get creative to address this in the coming weeks as a result.
Photo courtesy of USA Today Sports Images.