Arizona Coyotes forward Laurent Dauphin has found a new team to play for, as he signed a one-year contract containing a club option for a second year with the Swiss National League's HC Ambri-Piotta.
The 28-year-old 2013 second-round pick was in his third tour of duty with the Coyotes this past season, playing 48 games in the AHL and 21 in the NHL. Dauphin played very well in the AHL, notching 16 goals and 41 points, but his play in the NHL left much to be desired.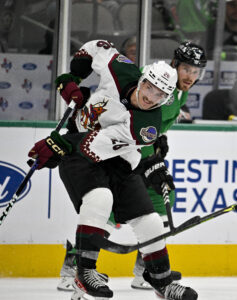 The high-energy pivot scored just one goal and no assists at the NHL level this season and failed to earn the trust of head coach Andre Tourigny, who played him sparingly.
It's this disappointing run in the NHL that has likely paved the way for Dauphin's departure overseas, where he'll play in a European pro league for the first time in his career.
A longtime minor leaguer, Dauphin seemed to hit a turning point in his career during his time with the Montreal Canadiens in 2021-22.
As the Canadiens faced significant injuries and a nightmarish campaign, Dauphin emerged as a trusted option for head coach Martin St. Louis, who played Dauphin in a larger NHL role than he'd ever played before.
Dauphin responded well to that increased role, contributing four goals and 12 assists in 38 total games, including a slick penalty shot tally. We at PHR even acknowledged Dauphin's improvement in our coverage of his signing in Arizona last summer, writing at the time that "it would be misleading to say anything other than Dauphin performed better than expected at the NHL level."
It seemed as though Dauphin would potentially carve out a role as a depth NHL center, but it now seems that his time in Arizona has undone that progress. Now, he'll head to Switzerland with the hope of serving as a top player for Ambri-Piotta, a club looking to have a bounce-back season after a disappointing 2022-23 campaign.
As he'll still be just 29 at this time next season, the door is far from closed for Dauphin to make a return to an NHL organization, but he'll need to have a good season overseas to keep it open.
Photos courtesy of USA Today Sports Images