Topics in this edition of the PHR Mailbag include the upcoming playoffs, Anaheim's coaching situation, injuries in Los Angeles, and more.  If your question doesn't appear here, watch to see if it appears in next weekend's mailbag.
Zakis: Why hasn't the Wild brought Rossi back up? They could use scoring and are always searching for centers.
When Minnesota made the decision to send Marco Rossi down to AHL Iowa in late November, the idea was that they wanted to give him some consistent playing time in an offensive role.  The move has proven to be a good one as he's hovering around the point-per-game mark which is a small improvement over last season.  On merit, he has certainly earned another look.
Here's the thing.  Could they have used him when the roster was basically thinned out which was the case up until a couple of games ago?  Sure.  However, even with the injuries, they never got to the point of qualifying for an emergency recall.  Now that we're after the trade deadline, the dreaded four-recall rule is in effect which basically means that teams are limited to four non-emergency recalls until their affiliates' season is done (including playoffs).
Because they had enough bodies to avoid emergency recall status, they'd have had to have burned one of those recalls to bring Rossi up.  And now, with most of the forwards back to being healthy (aside from Kirill Kaprizov), there wouldn't really be any room for Rossi in the lineup, at least in a role that is optimal for his development and Minnesota's success.  (Playing him eight minutes on the fourth line isn't doing anyone any good.)  Is it worth burning one of those recalls and disrupting his momentum for a short-term stint?  It appears GM Bill Guerin felt the answer was no.
The Duke: Dear Crystal Ball: please provide the fortunes for Nicholas Robertson, Alexander Holtz, Luke Hughes, and Ukko-Pekka Luukkonen. BONUS BOUNTY: Who are the Final 4 and who wins the Stanley Cup? Kind regards.
Robertson: Things haven't gone well for him in the pros, have they?  He has lost a lot of development time due to injuries, that's for sure.  Robertson feels like the type of player that probably best fits in on an offensive third line that can move up when injuries arise or if he has chemistry with a specific center.  Despite how long he has been out, he can still be an important part of Toronto's group, especially as a cost-controlled player that should be able to produce as long as he can stay healthy.
Holtz: It hasn't been a great start for Holtz to his career in North America.  He has done well in the minors but it has yet to translate to much NHL success.  On the other hand, he's only 21, leaving plenty of time for development.  I still think he will be a top-six forward down the road.  I wouldn't be shocked if he became a top liner still for that matter.
Hughes: The presence of Dougie Hamilton will limit Hughes' offensive output, at least early on.  With Hamilton logging big minutes including some power play time, it wouldn't be shocking to see Hughes around the 30-35-point mark early on.  Long term, 50+ points should be achievable on an annual basis which would have him in the top 20 league-wide.  I'm not sure he'll see 25 minutes a night like a typical number one defenseman but Hughes should produce like one.
Luukkonen: It has been a bit of an up-and-down first extended taste of NHL action, hasn't it?  I'm not sure he's the goalie of the future for Buffalo but he's a goalie of the future for Buffalo.  In an era that is becoming more reliant on platoons, Luukkonen should be able to fill one of those spots as long as he can wean down the erratic performances and become more consistent.  If he and Devon Levi can cover anywhere between 35-50 games each per season, they'll be thrilled.
Bonus: I think I had the Stars and Bruins as the Cup Final matchup in the last mailbag and I'll stick with that prediction for now with Boston winning.  As for the other two conference finalists?  I think the Rangers come out of the Metropolitan and one of Edmonton's goalies gets on a hot streak to get the Oilers out of the Pacific.
baji kimran: I know you don't own a crystal ball, but what do you think are the chances the following three centers who will be on expiring contracts next year get traded before the end of next year or hit the open market next summer?
Elias Lindholm. Calgary may not want to head toward a rebuild, especially with that awful Huberdeau contract, but if they struggle to compete, it may make sense to move him.
Auston Matthews. The Leafs have until July 1st to extend him or his no-movement clause kicks in and it will be harder to move him if he isn't willing to pursue an extension. When he does sign, it will be the largest deal ever and the Leafs are also faced with trying to keep Nylander, who will also be on an expiring contract. Some think Matthews wants to go to Arizona, but if they can't pass the vote to build a new arena, that won't be a wise move. In that instance, L.A. becomes the favorite.
Anze Kopitar. Kopitar still plays at a high level, but with the Kings locked into Danault for three more years and their probable desire to sign Roy, Kempe, Byfield, and Lizotte to extensions, Kopitar could become an odd man out, especially if Matthews were to land in L.A.
Wait, I'm confused now.  Didn't I just have a crystal ball a moment ago?  Where did it go?  Oh well, onto the questions.
1) I expect the Flames to take a real run at re-signing Lindholm this summer.  If they can't get something done, I think the odds of him being moved are quite high, think in the 75% range.  I think Calgary has shown this season that their core as constructed isn't good enough to contend.  They're better than they're playing but even a different coach isn't going to vault them into contender status.  Maybe there's a bump to get them into a playoff spot but that's not the same as a contender.  If they need to change up the core, the logical place to start from is a player who, in this scenario, doesn't want to re-sign.  Yes, they could keep Lindholm and look to move him in-season which is why that percentage isn't even higher.  But if that's the route that they take, they're probably running it back.  I just can't see them doing that.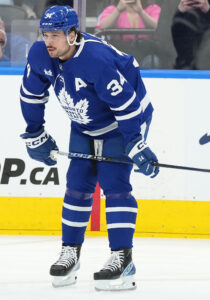 2) Technically, Toronto can only extend Matthews on July 1st which happens to coincide with the trade protection.  While they're not supposed to negotiate before then, we all know that rule isn't exactly followed.  I expect the Maple Leafs will hand Matthews the richest contract in NHL history sometime this offseason, at least from an AAV perspective; it might not be a max term.  Does that force Nylander out?  Probably, but with John Tavares' deal only being one year longer than Matthews', they're not going to willingly run the risk of losing two high-end middlemen.  If Matthews wants to stay, they'll get something done.  If he wants to wait and see what happens in 2023-24, I think they'll still hold onto him.  I'll go with a 5% chance that he's moved which is basically the scenario of him saying I won't re-sign so trade me to where I want to go.
3) My first thought was that they wouldn't want to trade a franchise legend.  My second was they just traded one last month so that first thought might not hold up.  But I don't think there's much of a desire to move him.  He has one year left after this season which lines up with Matthews so in your scenario of Matthews signing in Los Angeles, they'd probably just let Kopitar walk at the same time.  Of the potential extensions, they'd all kick in after Kopitar's deal is up so they don't need to trade him to free up room for those contracts.  I can't say 0% odds here with what happened with Quick so I'll go with a 1% chance he's traded.
Breakaway: 1). Who do you predict will be the four wild card teams?
2). Which one of those four teams can make some "noise" in the playoffs?
3). Who, if anyone, can knock the Bruins out of the playoffs?
1) In the East, I expect the Penguins will find a way to back their way in.  The Islanders are fragile but I think they'll just stay ahead of the Panthers.  Out West, the Jets seem like a safe bet for one of the spots; they'll be in tough to move up in the Central with everyone else having games in hand.  It'd be funny if the Predators got in after selling but I don't think they will and instead, the Kraken will get the other spot.
2) I'll go with the Islanders here.  Ilya Sorokin is capable of stealing some games on his own and they already play lower-scoring games that the playoffs often bring.  It might not be a run like they had in 2020-21 when they nearly beat Tampa Bay to make the Stanley Cup Final but they could surprise.  Connor Hellebuyck could do the same but Winnipeg has been too erratic lately to count on.
3) The Maple Leafs match up fairly well and if that winds up being a second-round matchup, it wouldn't shock me if they won.  In the Metro, both the Rangers and Hurricanes would have a chance to win a series.  Boston is still the prohibitive favorite, no doubt, but any of those teams could knock them out before the Final without it necessarily being too surprising.
JustPete: The Anaheim Ducks are mired in a multi-season "rebuild". Frankly, they are difficult to watch. Their offensive efforts are seemingly limited to the dump and chase as they cannot skate or pass the puck into the offensive zone. They play an awful zone defense that often leaves a defender open in the slot. While they have flashes of skilled play, it is mostly haphazard play without speed or organization.
They have a "core" of good skill players – who don't work together.
My question is whether it is time for a coaching change. I cannot fathom how they can play this badly. They look like a rudderless ship meandering through the rink.
I do expect there to be a coaching change in Anaheim.  From the moment that Pat Verbeek took over as GM, I expected Dallas Eakins would be let go on the day following the end of the 2022-23 regular season.
We saw at the AHL level that he wasted little time shaking up the staff in San Diego even with Joel Bouchard having term left on his deal.  However, there's a big difference between AHL coach money and NHL coach money.  For a season that Anaheim wasn't expected to go anywhere, paying for two coaches on a team that's not a cap spender didn't make economic sense.  But Eakins is in the final year of his contract so I think they've elected to play out this season and then simply not renew his deal, thereby paving the way for a new coach later this spring.
The Ducks have a decent young foundation to work with plus some promising offensive-minded prospects on the horizon.  Accordingly, I expect their next bench boss to be someone that wants to play more up-tempo with an emphasis on player development in the short term.  Verbeek has been around long enough going back to his time as an assistant GM to have a good idea of the type of coach he'll want and a list of candidates that could fit the bill.
Detboy: There was a lot of chatter about the three-team trades and some GMs feeling like they got screwed by the League, but no details. For example, the rumor was that Team 1 submitted the paperwork, Team 2 (in the middle) said no, that is not what was agreed to and the League said too bad. I want to know who it/they were and the details of the story.  How can the League just say, you get what you get?
This was something that Sportsnet's Elliotte Friedman noted after the deadline (Twitter link).  My interpretation of his report isn't that the league said you get what you get, it just took some working around to get to the final trade which complicated things.  It could have been as simple as having a fourth trade call to move the rest of the parts around.  In other words, the earlier trades were final but agree to a separate swap to work around it.  All those moves were done early enough to make that happen.
The trade referenced in that report wasn't ever announced but my guess is that it could have been the Nick Bonino one.  I was one of the writers on the early shift on deadline day and it was the first thing we covered, that he was going to Pittsburgh in a three-team deal.  A couple of hours later, we knew the facilitator was getting a fifth-round pick.  However, the actual trade wasn't announced for another three, if not four hours.  That seemed like a bit of an abnormal hold-up which makes me think that was the one where there was a problem partway through that took some time to fix.
dodgerskingsfan: When will Kevin Fiala and Sean Durzi be back playing for the Kings? Will there be enough time for them to get games in?
This is the time of year when a lot of players are perpetually day-to-day as injury designations become even harder to come by.  However, Durzi has been back skating for a few days now so it stands to reason that he's getting closer to coming back.  The fact he has progressed to team skates instead of solo ones implies that his return should be in the next few games.
Fiala is also skating but isn't as far along as Durzi is.  That makes his progress a little harder to judge.  But there are still 11 games left for Los Angeles so even if he's on the slower side of things, I think there's a path to getting him back before the playoffs start.  Another week or so of solo skates, a week of team drills (non-contact to full contact over a few days), and there would still be enough time for him to get into a game or two at least.
Even if Fiala isn't able to get back before the end of the regular season, I wouldn't be too concerned.  Yes, it might take a bit of time for him to get up to speed but he has been a strong scorer for a little while now.  I think he'll be fine, regardless of whether he gets into some action before the postseason starts.
Photo courtesy of USA Today Sports Images.