With now less than a month remaining until the playoffs, the stretch run is upon us.  Unfortunately for some teams, they'll be playing that stretch without a key player as some important injuries highlight our key stories.
Levi Turns Pro: The Sabres made it known that they wanted prospect Devon Levi to forego his remaining college eligibility and turn pro.  They got their wish as they inked the goaltender to a three-year, entry-level deal that begins this season.  Levi was immediately added to Buffalo's roster.  The 21-year-old, who was also named a top-ten finalist for the Hobey Baker Award this week, was a seventh-round pick (212th overall) back in 2020 and was part of the trade that sent Sam Reinhart to Florida.  Levi's contract is quite impressive for someone picked that late as he received the maximum signing bonus and guaranteed salary for each season while getting four 'A' bonuses in his deal in 2023-24 and 2024-25 as well.
Two For Binnington: Goalie suspensions don't typically happen very often but that's what happened to Blues goaltender Jordan Binnington who received a two-game ban for roughing/unsportsmanlike conduct against Minnesota Wild forward Ryan Hartman.  Hartman made light contact with Binnington after scoring and that sent the netminder off as he went after Hartman with his blocker before attempting to fight Wild netminder Marc-Andre Fleury.  It's the first suspension of Binnington's career.  With him out of the lineup, St. Louis called up prospect Joel Hofer to take his place with the youngster making two starts, winning both of them.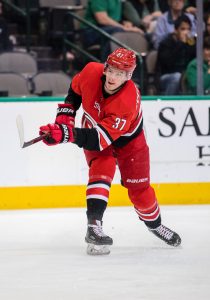 Svechnikov Out For The Season: The Hurricanes have been one of the top teams in the Eastern Conference all year long but they were dealt a serious blow when it was revealed that winger Andrei Svechnikov is out for the season due to a knee injury (torn ACL) that requires surgery.  He becomes the second key winger that is done for the year, joining veteran Max Pacioretty.  Svechnikov was on pace to meet his career highs offensively set last season that saw him pick up 30 goals and 69 points while his physical style of play certainly fits the higher intensity that the playoffs provide.  As expected, Carolina has placed him on LTIR, giving them ample cap space to fit in any extra recalls from the minors between now and the end of the season.
End Of The Road For Toews? Blackhawks captain Jonathan Toews has been dealing with both long-COVID symptoms as well as Chronic Immune Response Syndrome which has kept him out of the lineup since late January last season while also sidelining him for the entire 2020-21 campaign.  As his contract is set to expire this summer, a report has surfaced suggesting that the veteran is considering retirement.  Toews has spent his entire 15-year career with the Blackhawks, placing sixth in team history in goals (371), eighth in assists (509), and sixth in points (880) and while it's still possible that he might be able to return late in the year, it could be the end of the line for the 34-year-old.
More Injuries: Artturi Lehkonen's return to Montreal was a mixed bag.  He picked up three points against his former team but the Avalanche winger also suffered a broken finger in the game, one that will keep him out for the next four to six weeks.  The 27-year-old has already set career highs across the board offensively with 20 goals and 29 assists in 62 games but the Avs will be missing him for most of the stretch run as they battle for position in the Central.  Meanwhile, Canadiens center Christian Dvorak is out for the season after undergoing knee surgery.  His numbers took a small step back this season as the 27-year-old posted 10 goals and 18 assists in 64 games.  Dvorak is expected to make a full recovery in time for training camp.
Photo courtesy of USA Today Sports Images.