Many expected that this season was supposed to be Jonathan Toews' final one with Chicago.  However, it appears it might be his final one altogether as John Dietz of The Daily Herald reports that the veteran is believed to be seriously considering retiring at the end of this season.
Toews has been dealing with both long-COVID symptoms as well as Chronic Immune Response Syndrome with the pair of ailments causing him to miss the entire 2020-21 campaign.  While he was able to play a regular role last season and through the first half of this one, the 34-year-old hasn't played since late January.  Last month, he released a statement acknowledging that he is still dealing with symptoms from both issues which took away any possibility of him being moved at the trade deadline.  At this point, he hasn't been ruled out for the season and Dietz notes that he has been around the team regularly over the last couple of weeks.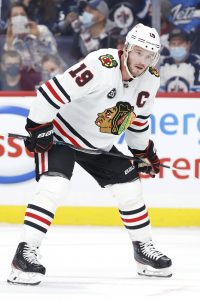 But even if Toews is able to return down the stretch, the lingering effects of these ailments appear to be likely to continue beyond this year which will present some complications for him moving forward if he opts to instead try to play next season.  He turns 35 next month which would make him eligible for an incentive-based deal as long as it's a one-year agreement which would give whoever signed him a chance to tie part of his compensation to games played.  At this point in his career, is that really the best route for him to go?  It appears that Toews is at least pondering that question as he considers his future.
He has spent his entire 15-year career with the Blackhawks, ranking sixth in franchise history in goals (371), eighth in assists (509), and sixth in points (880) while sitting fifth in games played.  Of course, he also helped lead them to three Stanley Cups in 2010, 2013, and 2015 and regardless of what decision he makes (retire or try to play next season), Toews is a franchise icon in Chicago.  Unfortunately, it appears as if there's a legitimate possibility that he won't be able to end his time with them – and perhaps his career – the way he wanted to.
Photo courtesy of USA Today Sports Images.