The Calgary Flames are acquiring defenseman Troy Stecher and forward Nick Ritchie from the Arizona Coyotes, per Daily Faceoff's Frank Seravalli, in exchange for Brett Ritchie and Connor Mackey.
This deal adds a player from the Coyotes' second defensive pairing and third forward line to play likely lesser roles in head coach Darryl Sutter's Flames lineup.
Ritchie, 27, is on an expiring $2.5MM contract and will provide useful depth to the Flames' forward corps while also potentially taking Walker Duehr's role on the team's fourth line. He's averaged over 13 minutes of ice time per game this season including over two minutes on the power play, and has scored nine goals and 21 points in 58 games this season. He's another big, heavy forward for Sutter to work with, and should add some possible goal-scoring touch to their lineup as well as some more skill than what his brother has been able to provide the Flames.
As for Stecher, the team is acquiring a 28-year-old on an expiring $1.25MM cap hit. In terms of average ice time per game, he's been Arizona's number-four defenseman this season and most recently has skated on their second pairing next to former Calgary blueliner Juuso Valimaki. Stecher hasn't scored yet this season, but has seven assists and has soaked up nearly three minutes per night on the team's penalty kill.
With over 400 games of NHL experience, Stecher is an upgrade for the Flames' bottom pairing over Dennis Gilbert and has the versatility to be able to fit into roles on the Flames lineup as they might pop up as the season goes on.
As for the Coyotes, the most significant element of this deal they are receiving seems to be Mackey, a 26-year-old blueliner who the team can retain beyond this season as a restricted free agent. Mackey has just 19 games of NHL experience but played exceptionally well in the AHL last season, to the tune of 36 points in 53 games.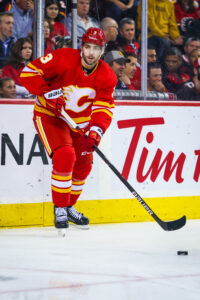 Perhaps the Coyotes feel that with an increased role on their squad, the smooth-skating defenseman can establish himself as a legitimate NHL defenseman.
As for Ritchie, his inclusion gives the Coyotes an experienced body to fill the role his brother has left behind.
The 29-year-old is operating on an expiring league-minimum salary and has nearly 400 games of NHL experience. He's averaging under 10 minutes per night this season with no special-teams minutes, although his role could increase in Arizona.
While it might be preferrable given the Coyotes' current direction for the team to receive draft picks rather than these two players in return for Stecher and Ritchie, the team could legitimately believe that Mackey holds some promise in the short-to-medium term.
Photos courtesy of USA Today Sports Images