The Toronto Maple Leafs, St. Louis Blues, and Minnesota Wild have completed a three-team, blockbuster trade.
In the deal, Toronto has acquired St. Louis' captain, Ryan O'Reilly, veteran forward Noel Acciari, and prospect Josh Pillar. St. Louis has received Mikhail Abramov, Adam Gaudette, Toronto's 2023 first-round pick, Ottawa's 2023 third-round pick, and Toronto's 2024 second-round pick. Minnesota received Toronto's fourth-round pick in 2025.
As part of the deal, St. Louis will retain 50% of O'Reilly's salary, while Minnesota will retain 25% of the cap hit. Both O'Reilly and Acciari are set to hit unrestricted free agency at year's end.
It goes without saying that this is an extremely significant trade, and one that represents a major push from Toronto to try to finally get the franchise past the first round of the NHL playoffs. The Maple Leafs will, in all likelihood, once again be playing the Tampa Bay Lightning in the first round, assuming there are no major changes in the standings.
The Lightning have won the Eastern Conference for three straight seasons, so for Toronto to really gear itself up for that expected first-round matchup, they would need to increase their firepower from their already talent-rich position.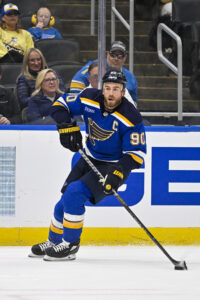 Now, after this trade, Toronto boasts Auston Matthews, John Tavares, and O'Reilly as the team's top-three centers. Most would be hard-pressed to find another team in the NHL that can boast such a strong trio of pivots.
It's true that O'Reilly's offense is down from the rate he normally scores at.
He's got just 12 goals and 19 points in 40 games this season, which is just two points more than current Maple Leafs third-line center David Kampf.
But O'Reilly isn't being acquired for what he'll bring to Toronto's scoring attack, they already score goals in bunches.
He's been acquired by the Maple Leafs because he brings exactly what many have felt Toronto has lacked in recent years in their biggest moments: competitive fire, the ability to rise to the occasion, and a willingness to rally in the face of challenges in order to get a job done.
O'Reilly's exploits in the Blues' 2019 Stanley Cup championship run cemented his status as a beloved St. Louis Blue. O'Reilly captured the Conn Smythe Trophy scoring 23 points in 26 games, as well as playing absolutely stellar defense that often left the line he was matched up against suffocated and unable to build offensive momentum. Overall, he has 56 points in his 64-game playoff career, a higher career playoff point-per-game scoring rate than Matthews, Tavares, Mitch Marner, and William Nylander, despite the fact that those players are normally considered to be in a different stratosphere of offensive talent.
With O'Reilly in tow, head coach Sheldon Keefe will be able to build a shutdown line that he can match with the deadliest scoring lines he faces in the playoffs. While the Maple Leafs have had competent defensive centers in the past, none boast the type of resume O'Reilly has built, especially in the unique environment of the playoffs. With forwards who are strong in their own end such as Kampf, Acciari, or even Zach Aston-Reese, Keefe could be able to complement his two deadly scoring lines with a premier shutdown line as well, boasting the kind of three-line mix that could handle any in-game situation.
O'Reilly is also a highly-regarded leader and someone whose locker room presence has played a major role in a Stanley Cup victory and in last season's playoffs, where O'Reilly's Blues were one of the few teams who truly gave the eventual champions, the Colorado Avalanche, a run for their money.
There are some who would rather the Maple Leafs spent these assets on a forward with some more points than O'Reilly has scored this season. But when looking at the problems that have plagued Toronto in prior years, it's hard to say there is anyone available on the trade market who would be better fit than O'Reilly.
Beyond just O'Reilly, Toronto has also acquired Acciari, a well-respected, versatile bottom-six forward. The 31-year-old has scored 10 goals and 18 points this season, and can play both center and on the wings. While he doesn't bring the scoring pedigree or star value that comes with O'Reilly, Acciari has 54 games of playoff experience and has been to a Stanley Cup final. He'll undoubtedly be an upgrade for Toronto's bottom six and helps with their overall goal of adding character players with playoff experience.
They also acquire prospect Josh Pillar, who currently plays for the Saskatoon Blades of the WHL. He's a 21-year-old winger who was a fourth-rounder of the Wild at the 2021 draft. He's scored decently well in the WHL and just returned from injury. He plays a polished game but his ultimate professional upside remains unclear. Per CapFriendly, the Maple Leafs will have exclusive rights to sign Pillar to his entry-level deal until June 1st.
From St. Louis' point-of-view, this deal might be a tough pill to swallow but it's ultimately a positive move for the team. It's never ideal for any team to lose its captain and especially so if that player was a crucial part of the franchise's first-ever Stanley Cup championship. But looking at this trade with the emotion of losing O'Reilly aside, this is a deal that should leave Blues fans satisfied.
Firstly, they landed another top draft pick for this upcoming NHL draft, adding another premier selection in a class that has drawn rave reviews from scouts.  In addition, the reality of the Blues' season and O'Reilly's contract status makes this a trade that the Blues simply had to make. The team has spent significant dollars locking up Jordan Kyrou and Robert Thomas recently, and sinking significant cap space into O'Reilly for the rest of what is shaping up to be a lost season (and a few years beyond) simply wouldn't make sense, especially at the opportunity cost of adding the sort of draft pick haul they received.
If adding Acciari helped GM Doug Armstrong coax the best possible package of picks from the Maple Leafs in this deal, then that's fine. Acciari likely could have been traded on his own, but adding him into this deal is a reasonable choice if it helped the Blues add that 2024 second-rounder.
In addition to the bounty of draft choices they received, the Blues also got Abramov, who is a 21-year-old 2019 fourth-rounder. He has scored 16 points in 34 AHL games this year and is someone for the team to plug into their AHL affiliate in Springfield to see what their development staff can do with his offensive skill.
They also received the 2017-18 Hobey Baker award winner, Gaudette, who has been a top scorer for the Toronto Marlies this season. With 34 points in 40 AHL games, he could either serve as an experienced depth NHLer to help fill a spot on St. Louis' roster (he does have experience playing center) or could help Springfield.
For Minnesota, this is a tidy, if a relatively insignificant bit of business for the team. Their trade of Pillar indicates that they likely were going to let his rights lapse in the summer anyway, so for their relatively minor retention on O'Reilly, they net a mid-round draft pick. While much as been made of the Wild's precarious cap position, they do actually have some room to maneuver this year. Turning some of that vacant space into a mid-round draft pick is nothing to complain about.
Overall, this is a trade that has the potential to serve as a significant moment for both the Maple Leafs and Blues franchises. For Toronto, they add a player whose resume seems almost perfectly tailored to address the problems that have ailed them in the playoff runs of the past. For St. Louis, they turn an expiring asset into a multitude of draft picks that could allow them to quickly move on from this disappointing campaign.
If the Maple Leafs don't end up winning the Stanley Cup or even getting out of the first round, it will be easy to look back at this deal and criticize their management for paying so many draft picks for rental players.
But ultimately, this trade is simply a team hungry for some playoff success adding one of the most accomplished playoff performers on the market. Even if it doesn't end up working out as the involved teams hope, this is a difficult deal to criticize.
Photos courtesy of USA Today Sports Images