The calendar has flipped to February and there was an uptick in activity around the NHL even with the All-Star break with those moves being highlighted in our key stories of the week.
Capitals Extend Two: It has taken Dylan Strome a while to find some stability but he has it now as the center inked a five-year, $25MM extension with Washington.  Strome was non-tendered by Chicago last summer and opted for a one-year, $3.5MM pact with the Caps, a move that has certainly worked out well for both sides.  The 25-year-old has 36 points in 51 games so far and will be a part of Washington's plans down the middle for the foreseeable future.  Meanwhile, after having to take a two-way deal with the Capitals earlier in the season, Sonny Milano has earned a better second contract with them, agreeing to a three-year extension that carries a $1.9MM AAV.  Since being recalled in early November, the 26-year-old has been a good secondary producer, picking up 22 points in 40 games.
NHL Comeback: It has been a while since defenseman Nikita Tryamkin has played in the NHL – 2016-17 to be exact – but it's possible that he'll be back soon.  His agent indicated that the 28-year-old has declined an extension from Yekaterinburg of the KHL and that his focus is returning to play in the NHL next season.  In the past, his name has come up but as a restricted free agent, his options were either signing with Vancouver or hoping for a trade.  Now, Tryamkin is an unrestricted free agent in North America, giving him more options.  The 6'8 blueliner has 10 points in 57 KHL games this season and had 11 in 79 contests with the Canucks over parts of two seasons.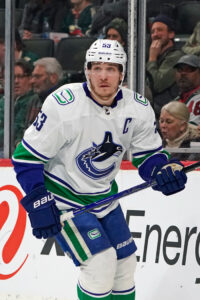 New Home For Horvat: One of the big trade dominoes fell as the Islanders acquired center Bo Horvat from Vancouver in exchange for winger Anthony Beauvillier, prospect center Aatu Raty, and a 2023 protected first-rounder (that becomes an unprotected 2024 pick if it's not conveyed this year).  Vancouver also retained 25% of Horvat's $5.5MM AAV, basically making the cap implications this season a wash.  The pending UFA is in the middle of a career year with 31 goals and 23 assists in 49 games but wasn't able to come to terms on an extension with the Canucks.  While he hasn't suited up for his new team yet, he quickly signed up for the long haul, agreeing to an eight-year, $68MM extension, ensuring their new one-two punch down the middle that also includes Mathew Barzal will be in place for years to come.  Meanwhile, the Canucks pick up a middle-six winger in Beauvillier, arguably New York's top prospect in Raty, and a first-rounder as they look to kick-start a rebuild.
Key Injuries: Mark Stone has been a key player when healthy for the Golden Knights but staying in the lineup has proved to be challenging.  The veteran has now undergone back surgery with no timetable for his return.  It's the second year in a row that the 30-year-old has had back surgery.  Despite missing eight games, Stone is second on the team in scoring and his absence will make it tougher for Vegas as they battle for top spot in the Pacific.  He's eligible to be placed on LTIR which could open up $9.5MM in space for the Golden Knights but only if they know that he won't be back for the rest of the year.  It's too early for them to make that determination now.
Meanwhile, the Blue Jackets ruled out winger Gustav Nyquist for the remainder of the regular season due to a shoulder injury.  However, it's expected that he will be able to return for the playoffs.  That won't be happening in Columbus – they're dead last in the East – but it does open up a window for them to still be able to trade him as long as it's to a team with enough cap or LTIR room to accommodate his $5.5MM AAV.  The market will be weaker than what it would have been had he been healthy but Columbus should still be able to pick up a conditional pick.
Hull Dies: Hall of Fame winger Bobby Hull passed away at the age of 84.  He led the NHL in scoring three times with Chicago (including getting the Hart Trophy in 1965) and scored over 600 goals with them in 15 years.  Hull then jumped ship to the WHA where he spent seven more years in Winnipeg, scoring another 300 goals including a 77-goal campaign in 1974-75.  He was the first hockey player to receive a contract worth a million dollars, inking a ten-year contract worth $1.5MM per season.  Hull briefly returned to the NHL when the WHA merged with the NHL in 1979 and hung up his skates at the age of 41.
Photo courtesy of USA Today Sports Images.