With veteran defenseman Jake Muzzin out indefinitely and with it not appearing as if he will be back anytime soon, there has been an expectation that the Maple Leafs will look outside the organization to try to shore up their back end.  It appears one of the options they're interested in is Blackhawks blueliner Jake McCabe, Daily Faceoff's Frank Seravalli reports (video link).
The 29-year-old is in his second season with Chicago after spending his first eight NHL seasons with Buffalo.  While McCabe isn't known for his point production (the 22 he had last season stands as his career-high), he has been a quality defensive defender that can block shots and play with a physical edge which are some of the elements that Muzzin was bringing to the table for Toronto prior to his cervical spine injury.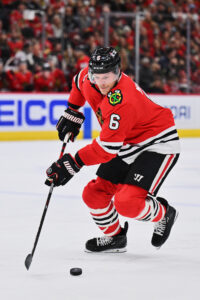 McCabe has two seasons left on his contract after this one that carries a $4MM AAV.  On the surface, it would be difficult to see McCabe fitting into Toronto's salary structure but there are a couple of ways it could potentially work.  The first would be convincing Chicago to retain part of the contract to help make the money work; teams can retain up to 50% in a trade.  However, getting them to hold back that much would undoubtedly make the acquisition cost considerably higher, especially with the term left on the deal.
The other option is one that they'll have to wait on for a while.  Muzzin is expected to be re-evaluated at some point next month and if they get word that the veteran won't be back at all this season, Toronto could then fit McCabe's full AAV into their LTIR pool which includes Muzzin's $5.625MM AAV.  There would still be some questions about making the money work beyond 2022-23, however, barring some sort of indication that Muzzin's injury is going to continue to linger.
Worth noting is that McCabe also has a seven-team no-trade clause.  While Seravalli notes that the majority of those no-trade teams are Canadian franchises, the Maple Leafs appear to be the one exception which would suggest that he's amenable to joining them.
Again, with Muzzin's situation, this isn't a move that the Maple Leafs will be able to make until they get some further clarity on their veteran.  But that doesn't stop them from exploring their options in the meantime and McCabe is certainly an interesting target to help replace a lot of what Muzzin brought to the table when he was healthy.
Photo courtesy of USA Today Sports Images.