It has been an incredible first half for Erik Karlsson. The two-time Norris Trophy winner has 56 points through 44 games, and leads the entire league in even-strength scoring. He's healthy, playing more than 25 minutes a game, and looks a lot more like the player that the San Jose Sharks paid for in 2018.
That cost is what usually comes up in any conversation about Karlsson's time in San Jose. The Sharks sent Dylan DeMelo, Chris Tierney, Rudolfs Balcers, Joshua Norris and a package of draft picks that ended up being Tim Stutzle, Zack Ostapchuk, and Jamieson Rees. Talk about a haul.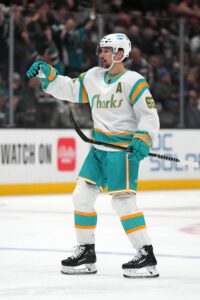 All that and they still needed to sign Karlsson long-term. That ended up looking like an eight-year, $92MM contract that essentially took him out of any further trade talks for the next few years. Not only did he have a full no-move clause, but Karlsson's $11.5MM cap hit was a conversation-ender – at least when he was struggling with injuries and inconsistency.
But with his performance this season, that may have changed. Rumors have swirled all season about a potential move, ever since general manager Mike Grier admitted that he would listen to any callers. Now, speaking with Corey Masisak of The Athletic, Grier confirms that the Karlsson trade market is real (at least in theory):
There is interest in him. There's some teams who have reached out about him. I think it's only natural for teams to kick the tires, and it's my job to listen to all the offers and see what I think is best for the organization short term and long term.
Any deal would be an incredibly difficult puzzle to sort out, given all the factors involved. Trade protection. High salary. Several years left. Lots to get in the way of talks. Frank Seravalli of Daily Faceoff breaks down the whole situation, including a potential asking price.
Reports indicated the Sharks are looking for three first-round picks, and are only willing to retain 18% of his remaining contract. But Grier threw some cold water on those numbers when speaking with Masisak:
I'm not going to really get into what we're asking for, but I don't think that's totally accurate. Whatever it would be, it would have to be an offer that we feel makes us stronger in the future and gives us the ability to help kind of turn this thing around quicker. It's got to be something that makes sense for us as an organization.
Given the unprecedented nature of a player like this being dealt at this point in his career (and contract), it's a mystery what that return could actually look like. Some would argue that just getting out from under the contract itself would be enough to make sense for San Jose, given their current situation.
The Sharks sit 28th in the league, without any real hope to turn things around soon. No matter how well Karlsson is playing, it's not enough to put them in contention.
Could he help another team reach that goal? It's going to be a difficult move to make, even if they do get his blessing.
Photo courtesy of USA Today Sports Images