The Arizona Coyotes haven't been a good team this year, and they're currently sitting close to the basement of the NHL standings. That poor performance has come despite the best efforts of netminder Karel Vejmelka, though, who has greatly impressed this season.
While Vejmelka's box score numbers don't jump off the page, (he has a .902 save percentage, 3.38 goals-against-average, and 11-15-4 record) looking a bit deeper into how the Czech goalie has performed reveals just how well he's played in Arizona.
MoneyPuck's goals saved above expected metric, which tracks how well a goalie has performed relative to how an average goalie would be expected to perform, ranks Vejmelka ninth in the entire NHL. He's nipping at the heels of some of the NHL's best netminders such as Igor Shesterkin and Andrei Vasilevskiy in that metric, which speaks volumes to the level he's played at this year.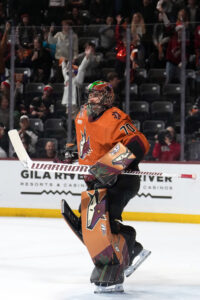 Vejmelka has frequently kept the Coyotes afloat in games despite being at a major talent disadvantage, and has stolen games that the team, on paper, had no right winning.
He's still just 26 years old, and costs just $2.725MM against the cap for the next two seasons. While his track record is admittedly thin (he is untested in the playoffs and has just 83 NHL games on his resume) his play this year has left quite the impression.
Given all that information, recent reporting from Sportsnet's Jeff Marek might come as a surprise. On last night's Hockey Night in Canada broadcast, Marek reported that the Coyotes "would part with" Vejmelka "if the deal is right."
Since Vejmelka has been so valuable for the Coyotes this year, the fact that the team would consider dealing him seems, on paper, to be a highly questionable decision.
But the unique state of the Coyotes adds some justification to the team's thinking. Arizona is pursuing a long-term rebuilding plan, and the organization's main goal has been building a stockpile of young players and prospects in order to fuel sustainable contention in the long-term.
The Coyotes may believe that Vejmelka may hold more value to their long-term plan for contention as a means of deepening that stockpile of picks and prospects, rather than as the goalie in their crease. If the team can net a player they believe can be a future top-six forward or top-four defenseman in exchange for Vejmelka, it's easy to understand that rationale.
But even if one understands why the team might choose to cash in on Vejmelka, the prospect of trading such a talented starting netminder remains a difficult sell.
The Coyotes' season has been all about player development, with the organization selling its fanbase on the idea that even though wins will be hard to come by, fans will be able to enjoy watching the development of players who will become foundational pillars of the next contending Coyotes team.
So if the Coyotes were to trade a player who is still relatively young and is among the best talents they have, that would come as quite the blow and would fly against the message of their season. The Coyotes seemingly found a potential core piece out of nowhere, signing Vejmelka as a relatively unheralded goalie out of the Czech league only for him to turn into an NHL starter. If they traded that goalie before he even reached 100 NHL games played, it would beg the question of what the Coyotes are even trying to accomplish as a franchise.
But still, the rationale of selling high on a player who still has a relatively thin NHL resume is certainly reasonable. So it's undoubtedly a difficult situation and one where it's easy to hear the arguments for each side. In the end, though, this report from Marek indicates that despite the development of players such as Clayton Keller into legitimate NHL stars, the Coyotes are still very much in the dog days of their rebuilding plan.