The Seattle Kraken have announced that forward Shane Wright has been assigned to their AHL affiliate, the Coachella Valley Firebirds, on a conditioning loan. Yesterday, we covered that this move might be coming, and now it's been made official.
Wright, 18, has been a healthy scratch for five straight Kraken games, which opened up the possibility of this move. Per the NHL-CHL agreement, Wright cannot be outright assigned to the AHL. For prospects like him who were developed in the CHL, the choice is typically between sending the prospect back to the CHL for another season or keeping them in the NHL.
With Wright, those restrictions have placed the Kraken in a bind. The Kraken did not believe simply sending Wright back to the OHL's Kingston Frontenacs would be the best option for his development, and opted to keep him on their NHL roster. But with the Kraken off to a hot start, Wright struggled to earn coach Dave Hakstol's trust and has been sheltered in a highly limited role in the games he's played in.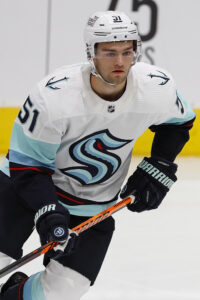 Unable to assign him to the AHL outright, the Kraken have elected this highly unorthodox strategy for Wright. He'll be able to spend up to two weeks in Coachella Valley, a period that will likely lead into Wright being sent to Team Canada's World Junior Championship camp.
That tournament ends in early January, and at that point, the Kraken will be faced with another choice.
They could elect to put him back on the NHL roster with the hope that he'll be in a better position to contribute, or he can be sent back to the OHL. Since he has not yet skated in nine NHL games, the Kraken won't have burned a year off of his entry-level deal.
Perhaps the most important factor determining if Wright heads back to the OHL after the World Juniors is what team holds his rights. Kingston hasn't been great this season, and they currently stand in the middle of the pack in the OHL Eastern Conference standings.
It's possible that Wright's OHL rights are traded early in the new year, which could enhance the likelihood that GM Ron Francis and the Kraken elect the OHL route for the rest of the season.
Either way, the most important aspect of this news is that a clear, concrete plan is starting to come together regarding Wright's developmental future. Given how chaotic his early tenure in Seattle felt for many fans, this is most definitely a positive development for everyone invested in the success of the Kraken's top prospect.
Photo courtesy of USA Today Sports Images