The Dallas Stars have locked up another piece of their core, signing Roope Hintz to an eight-year extension. The deal keeps him under contract through 2030-31 and includes an average annual value of $8.45MM. Hintz was scheduled for restricted free agency next summer when his current three-year, $9.45MM ($3.15MM AAV) contract expired. PuckPedia reports the full breakdown:
2023-24: $7.5MM salary + $4.0MM signing bonus
2024-25: $8.25MM salary + $3.0MM signing bonus
2025-26: $7.0MM salary + $3.0MM signing bonus
2026-27: $5.25MM salary + $2.0MM signing bonus
2027-28: $6.9MM salary
2028-29: $6.9MM salary
2029-30: $6.9MM salary
2030-31: $6.9MM salary
Hintz, 26, will now match Miro Heiskanen in terms of cap hit, coming in just ahead of the four-year deal that Jason Robertson signed this fall and behind the two big-ticket veterans in Tyler Seguin ($9.85MM) and Jamie Benn ($9.5MM).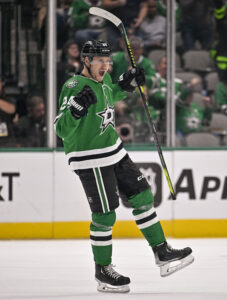 If you haven't been paying attention to the Stars, you might have missed the development of Hintz into one of the league's premier two-way players. Last season he scored 37 goals and 72 points as the anchor between Robertson and Joe Pavelski, earning Selke Trophy votes along the way as one of the league's best defensive forwards. This year things have gone even better, with eight goals and 24 points in 22 games.
Even with Robertson's dynamic offense and Heiskanen's brilliant defending, there have been some that argue Hintz is actually the team's best – or at least most valuable – player, because of all the things he does through the middle of the ice. You can practically hear the excitement in general manager Jim Nill's statement about the deal:
Roope is a dynamic two-way centerman who has proven to be one of the best at his position in the NHL. He's developed into one of our most versatile players, making an impact on special teams and at even strength, and can be counted on by our coaching staff in every situation. We are fortunate to have him in Victory Green for an additional eight years and look forward to his continued growth as a player.
Big, versatile centers are one of the most difficult things in the league to come by, and the Stars have avoided what could have been a tricky negotiation in a few months. While an $8.45MM cap hit is certainly not a small number, there's reason to believe he could have demanded more, had he been coming off another near-40-goal season. Because of his age, this deal is only buying out a single RFA year, meaning Dallas is locking up basically all of Hintz' productive UFA seasons in one shot.
There is certainly some risk here though, given the breakout that happened once Robertson and Pavelski were put in place. Hintz was good but not great in his first two seasons, and a return to that level would mean another underperforming big contract on the books. Dallas is willing to make that bet, though, and it appears like a good one given how consistent Hintz has been for more than two years now.
It also simplifies the Stars' offseason considerably, leaving only Denis Gurianov and Ty Dellandrea as RFAs among the regular group. Pavelski's future is unclear, given his UFA status and age (he'll turn 39 just after free agency kicks off next summer), but the team now has some understanding of what they have to work with.
Photo courtesy of USA Today Sports Images