After coming to see his legions of fans in Toronto one last time, Borje Salming has passed away at the age of 71. The legendary NHL defenseman was present at the recent Hockey Hall of Fame induction ceremony and honored at a Maple Leafs game. Team president Brendan Shanahan released the following statement:
The Toronto Maple Leafs mourn the loss of Börje Salming. Börje was a pioneer of the game and an icon with an unbreakable spirit and unquestioned toughness. He helped open the door for Europeans in the NHL and defined himself through his play on the ice and through his contributions to the community.

Börje joined the Maple Leafs 50 years ago and will forever be a part of our hockey family. We extend our deepest condolences to his wife, Pia, his children Theresa, Anders, Rasmus, Bianca, Lisa, and Sara, and brother Stieg.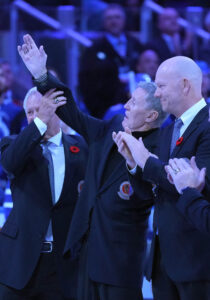 Salming was diagnosed with ALS (also known as Lou Gehrig's disease) in August. After losing the ability to speak, he made the journey from Sweden to Toronto and stood flanked by Darryl Sittler and Mats Sundin while receiving a long standing ovation from the Maple Leafs crowd.
One of the greatest defensemen of all time, Salming finished in the top five of Norris Trophy voting for seven consecutive seasons after arriving in North America. One of the first European players to ever cross the ocean to play in the NHL, he would play 17 seasons in the league, all but one with the Maple Leafs. In total, he suited up 1,148 times in the regular season and recorded 787 points, including a career-high 78 in 1976-77, when he finished fourth in the Hart Trophy vote.
At the 1976 Canada Cup, Salming received a standing ovation from the Toronto crowd despite wearing a Swedish jersey and about to play Canada. He was arguably the most beloved player in Maple Leafs history, and one that changed the dynamic of the NHL for good.
European players would flood the league after trailblazers like Salming found success, with Sweden becoming one of the most well-represented nations in the NHL. He became the first Swedish player inducted into the Hockey Hall of Fame in 1996, and would go into the IIHF Hockey Hall of Fame in 1998. In 2017, he was included as one of the NHL's '100 Greatest Players.' His No. 21 was retired by the Maple Leafs in 2016.
Photo courtesy of USA Today Sports Images