6:33 pm: According to CapFriendly, Barzal will receive exactly $9.15MM in base salary across all eight seasons. A 22-team no-trade clause will kick in for the 2024-25 season and continue for the duration of the contract.
11:44 am: The New York Islanders have signed Mathew Barzal to an eight-year extension worth a total of $73.2MM. The deal will start in 2023-24 and carries an average annual value of $9.15MM.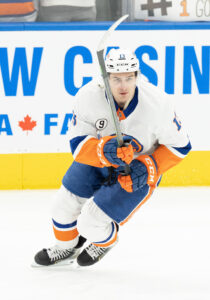 Barzal, 25, is heading into the third season of a three-year, $21MM bridge contract he signed in 2021 and would have been due a qualifying offer of $8.4MM next summer. That also would have been his final year as a restricted free agent, he would have had arbitration rights, and could have potentially walked himself right to unrestricted free agency by agreeing to a one-year deal. With all of that in mind, the Islanders had to pay up to keep Barzal in the fold long-term, buying out a very expensive RFA season and seven more UFA years.
At $9.15MM, he will become the team's highest-paid player by quite a bit, blowing by the previous $7MM cap that Anders Lee carries through 2025-26. While the last couple of seasons hasn't been quite as impressive as Barzal's incredible 85-point rookie campaign in 2017-18, his dynamic offensive skill is something that is difficult to come by. There's little doubt that Barzal is the most talented forward on the team, and now with a contract like this in hand, he becomes the pillar to build the rest of the offensive group around.
The question, of course, is whether the Islanders will be able to support Barzal with enough skill once he's earning so much. A $9.15MM cap hit makes him the 21st highest-paid forward in the league, ahead of some very consistent goal scorers like Filip Forsberg and Mika Zibanejad, and some young up-and-coming talents like Brady Tkachuk and Robert Thomas. The contract that CapFriendly notes as most comparable is Brayden Point's $76MM extension, which kicks in this year, but that is a pretty high bar for Barzal to reach on a consistent basis.
With more than $71MM now committed to next season, with a roster of just 17 players, Islanders management will need to make some tough decisions in the years to come. Ilya Sorokin, Josh Bailey, and Anthony Beauvillier are all scheduled for unrestricted free agency after 2023-24. The team is likely betting on the salary cap taking the sharp increase that has been reported, or else things are going to get tight, quick.
Either way, this locks a fan favorite in for the better part of his career, and allows Islanders fans to breathe easy about Barzal's future. The 16th overall pick from 2015 is now under contract through 2030-31 and now has no negotiations to distract him from getting back to the point-per-game player he has proven capable of being.
Photo courtesy of USA Today Sports Images