Despite hiring a new front office and new head coach, this season has started off as more of the same for the San Jose Sharks organization. The Mike Grier/David Quinn era is off to a 3-8-0 start, leading many to wonder if the organization's original goal to return to contention with their current core remains a realistic possibility. It now seems that the Sharks' front office might agree with that sentiment, as TSN's Pierre LeBrun reported on TSN's Insider Trading program reports that the Sharks have "let it be known that they are willing to listen on pretty much every player on their roster" other than Tomas Hertl.
This presents an interesting situation for San Jose, as while the team might be interested in dealing anyone on their current roster, the realities of their roster construction present some unique challenges. First and foremost, the players that San Jose might be most interested in dealing, players such as veteran defensemen Erik Karlsson and Marc-Edouard Vlasic, might be the most challenging for Grier to trade. Both Karlsson and Vlasic have full no-movement clauses and therefore would have full control over any trade destination.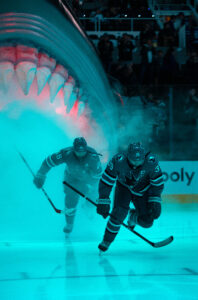 Additionally, Karlsson's cap hit is $11.5MM and Vlasic's is $7MM. In an environment where most teams are struggling with salary cap space, Grier could find constructing a suitable trade involving both players to be quite the challenge.
Another factor complicating Grier's ability to complete a significant reconstruction of this Sharks roster via trade is the lackluster performance of many of the Sharks' players.
Vlasic, for example, is now an offseason buyout candidate and far removed from the capable defensive defenseman he once was. Karlsson, who has had a strong start with 11 points in 11 games this year, has dealt with major injury troubles in recent years, the sort of injury issues that would make any interested team think twice about acquiring him.
Beyond just Karlsson and Vlasic, the Sharks have other veterans that may be of some more interest to other clubs, such as James Reimer or Kevin Labanc, but a deal for either might not be the sort of franchise-altering move Grier seems to be pondering.
There is one player who fits the bill as both a major asset to be shipped out and also a player who might actually be realistically tradeable: Swiss power forward Timo Meier. Meier is a pending restricted free agent who is precariously close to hitting unrestricted free agency. Should the Sharks choose to forgo signing Meier to a long-term extension, trading him would be the most sensible option.
While Meier has had a brutal start to this season with just five points in 11 games, he scored 76 points in 77 games last season and would in all likelihood fetch a major compensation package in return in any trade deal.
Regardless of whether Grier ultimately finds a way to make a franchise-altering trade or not, LeBrun's report makes it clear that Grier is contemplating significant changes in San Jose. For a club that could be going through its fourth consecutive season without a playoff berth, those sort of major changes could be exactly what the Sharks need.
Photos courtesy of USA Today Sports Images