The Buffalo Sabres are having a busy morning. After announcing an extension for head coach Don Granto, the team has also released details of a seven-year extension for one of his prized pupils. Mattias Samuelsson has signed a $30MM extension that will kick in for the 2023-24 season, avoiding restricted free agency and giving him a $4.29MM cap hit.
CapFriendly has the full breakdown:
2023-24: $2,286,716 salary + $2.0MM signing bonus
2024-25: $4,285,716 salary
2026-27: $4,285,716 salary
2027-28: $4,285,716 salary
2028-29: $4,285,716 salary
2029-30: $4,285,716 salary
2030-31: $4,285,716 salary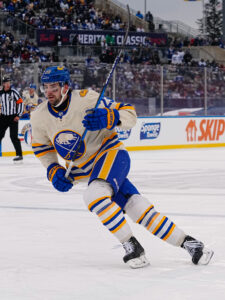 This is a full bet on potential, as the 22-year-old Samuelsson has just 54 games of NHL experience under his belt to this point. It was the end of last year, when he paired so perfectly with Rasmus Dahlin, that really made a deal like this possible. Over his final 22 games, Samuelsson averaged more than 21 minutes a night, recording eight points and a positive +/-.
If he continues his natural progression into a top-pairing, shutdown option, a cap hit like this will quickly look like a bargain, especially if the salary cap takes a sharp rise in the coming seasons.
The risk here is that he plateaus as a middle-pairing guy who doesn't provide much offense, and the Sabres have effectively limited any surplus value they could have gotten out of his RFA years. With just 12 points in 54 games (zero goals), it isn't like Samuelsson was setting himself up for a big arbitration case, and he's still several years away from unrestricted free agency.
Of course, there is also the fact that the Sabres already have a good amount of cap space and this is more about locking in a player that they like than worrying about dollars and cents. The team currently projects to have more than $32MM in space for next season even after factoring in extensions for Samuelsson and Tage Thompson. That number only increases from there, meaning it's hard to see a situation where they are truly regretting this deal.
Unless Samuelsson falls off a cliff – which certainly doesn't appear likely after another outstanding training camp – this is more about rewarding a player they believe in than squeezing out every ounce of surplus value. Now it's up to him to reward them for that faith with a strong full season.
Photo courtesy of USA Today Sports Images