Navigating the salary cap is one of the more important tasks for any GM.  Teams that can avoid total cap chaos by walking the tightrope of inking players to deals that match their value (or compensate for future value without breaking the bank) remain successful.  Those that don't see struggles and front office changes.
PHR will look at every NHL team and give a thorough look at their cap situation heading into the 2022-23 season.  This will focus more on players who are regulars on the roster versus those who may find themselves shuttling between the AHL and NHL.  All cap figures are courtesy of CapFriendly.
New York Rangers
Current Cap Hit: $81,491,469 (under the $82.5MM Upper Limit)
Entry-Level Contracts
D Zachary Jones (one year, $925K)
F Alexis Lafreniere (one year, $925K)
D K'Andre Miller (one year, $925K)
D Braden Schneider (two years, $925K)
Potential Bonuses
Lafreniere: $2.85MM
Miller: $400K
Schneider: $400K
Total: $3.65MM
Lafreniere's per-game numbers last season were nearly identical to his rookie-season numbers which doesn't help bolster his case for a bridge-bypassing contract.  The top pick in 2020 certainly has shown some upside but for now, a bridge in the $2.5MM range might be the best way to go for both sides.  His 'B' bonuses are almost certainly unattainable but an improved performance could give him a shot at one or two of the 'A' bonuses worth $212.5K apiece.
Miller has averaged more than 20 minutes per game in his first two seasons and is pegged to have a top-four role again in 2022-23.  His limited offensive production, however, makes it difficult to project a long-term contract as Miller's camp would likely prefer a bridge with the hopes that the output will come.  A two-year deal around $2.75MM or a three-year contract worth a little over $3MM might be where his next price tag checks in.  Schneider and Jones will both be looking to establish themselves as full-time regulars this season.  For Jones, that doesn't leave much time to command a pricey second contract so he, too, will be looking for a bridge.  Schneider has a bit more runway but like Miller, he might not produce enough for both sides to find a long-term price tag that they'll like.
Signed Through 2022-23, Non-Entry-Level
F Sammy Blais ($1.525MM, UFA)
F Ryan Carpenter ($750K, UFA)
F Filip Chytil ($2.3MM, RFA)
F Julien Gauthier ($800K, RFA)
D Libor Hajek ($800K, RFA)
G Jaroslav Halak ($1.5MM, UFA)
F Dryden Hunt ($762.5K, UFA)
F Vitali Kravtsov ($875K, RFA)
F Ryan Reaves ($1.75MM, UFA)
Potential Bonuses
Halak: $50K
Chytil took a bit of a step back last season.  He continues to show some signs of being able to crack a top-six spot but the consistency hasn't been there yet.  He's likely to remain on the third line where he'll see time both on the wing and down the middle but unless he takes a sizable jump forward offensively (his career-high in points is 23), he might not be able to get much more than his $2.6MM qualifying offer.  Kravtsov is one of the bigger wildcards this season in New York.  He's no longer waiver-exempt and he wasn't exactly lighting it up in the KHL the last couple of years.  If he can lock down a regular spot in the lineup, he'll be well-positioned for at least a small raise but otherwise, he's likely to wind up around the $1MM mark.  Gauthier hasn't been able to progress beyond being a fringe winger thus far and it's telling that he took less than his qualifying offer to secure a one-way deal.  Until he establishes himself as a regular, he probably won't pass the $1MM mark.
As for the UFAs, Reaves is one of the few remaining enforcers in the league.  He'll be 36 when he signs his next deal and this might be the one that starts to drive his salary downward.  Blais missed almost all of last season after undergoing ACL surgery and will be looking to restore some value a year out before free agency.  If he can establish himself as a power forward that's capable of playing on the third line, he could push for double his AAV next summer.  Hunt established himself a regular last season which will help him a bit but if he stays in a fourth-line role, he won't be able to command much more than $1MM.  Carpenter had to settle for the league minimum this summer in free agency and if he winds up in a depth role again, that's about where his next deal will be as well.
Hajek was a frequent healthy scratch last season and hasn't lived up to the billing of being an important part of the Ryan McDonagh trade in 2018.  He should be on the fringes again this year.  He's not in danger of being non-tendered but at this point, the raises will be incremental at most moving forward.
Halak comes over after a tough showing in Vancouver last season.  He should be able to play a bit more this time around after going long stretches between starts a year ago but he'll be 38 next summer and will be going year-to-year from here on out with a cap hit around this range.
Signed Through 2023-24
F Kaapo Kakko ($2.1MM, RFA)
D Ryan Lindgren ($3MM, UFA)
Kakko, one of the top picks from 2019, struggled to stay healthy and couldn't manage too much production so a bridge deal was the natural move for both sides.  Considering he's still only 21, there's still room for him to improve and become a full-time top-six player which would give him a shot at a sizable raise in 2024.
Lindgren has stepped up into a top-four role and has become one of New York's better shutdown defenders over the last couple of seasons.  As was the case with some of their entry-level blueliners, limited production will limit his earnings potential but as he'll be a year away from UFA eligibility in 2024, he'll hold a lot of leverage and will be owed a $3.6MM qualifying offer.  A long-term agreement would be closer to the $5MM range.
Signed Through 2024-25
G Igor Shesterkin ($5.67MM, UFA)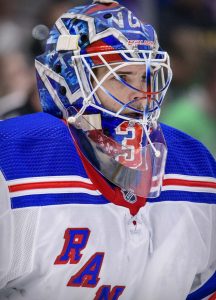 Shesterkin's deal was signed when had less than 50 career NHL appearances under his belt so it did carry some risk.  However, the reward already looks quite high as the Vezina Trophy winner and first-team All-Star is coming off a dominant season.  He's not in the top ten in the NHL in terms of his cap hit so the Rangers have quite a bargain on their hands.  Looking ahead to three years from now, as long as he remains one of the top goalies in the league, he'll hit the open market at 29 in a position to command close to a max-term deal where he'll be able to become one of the top-paid netminders in NHL history.  Not too shabby for someone who even now has just 100 NHL regular season contests under his belt.
Signed Through 2025-26 Or Longer
D Adam Fox ($9.5MM through 2028-29)
F Barclay Goodrow ($3.642MM through 2026-27)
F Chris Kreider ($6.5MM through 2026-27)
F Artemi Panarin ($11.643MM through 2025-26)
F Vincent Trocheck ($5.625MM through 2028-29)
D Jacob Trouba ($8MM through 2025-26)
F Mika Zibanejad ($8.5MM through 2029-30)
Panarin's contract remains the benchmark around the league as he's the highest-paid winger in NHL history.  As much as you can't call his deal a bargain, he already has two seasons of 95 or more points since joining New York while in the other season, one that was significantly shortened, he played at a 113-point pace.  As long as he's among the elite in the league in terms of production, his contract can't be called much of an overpayment either.  Zibanejad's deal was signed a year ago and begins this season.  He has become a top center in recent years, not necessarily based on his offensive output but rather on his all-around game.  He should be good in that role for a few seasons but the last few years might not age quite so well as he'll be turning 38 at the end of the 2029-30 campaign.
There were some questions about Kreider's deal and how well it would hold up after a tough showing in 2020-21.  Frankly, there is still some reason for concern about it in a few years from now.  But after a 52-goal campaign, there shouldn't be anyone complaining about his deal in the present.  Even if he dips to the 30-goal mark, they'll do okay on that contract this season.  Trocheck comes over to serve as their second center after a couple of good seasons in Carolina.  Coming off a 51-point season plus his career track record, the AAV here seems a little high but it solves a long-term need so paying a bit more than they might have liked to is justifiable.  Goodrow had the most playing time of his career last season and responded with a career year offensively.  For someone who's known more as a checker, the contract might seem a little inflated but if he's going to play 16 minutes a game and chip in with some secondary scoring, they'll do just fine with it.
It hasn't taken long for Fox to become one of the premier defensemen in the league.  He was fourth in scoring last season for all NHL blueliners which earned him this new seven-year deal that makes him one of the top-paid rearguards in the league.  As long as he's at or near the top of the leaderboard in production, they'll do well with this contract.  Trouba, on the other hand, is someone whose contract hasn't quite gone according to plan.  Last season was the only one of three in New York where he produced at an above-average rate offensively while he was second on the team in ice time.  It's not that the contract is bad by any stretch but it currently is a couple million or so above what his market value would be which stands out on a team that quite frankly doesn't have a lot of contracts that are well above market value at the moment (although that will change in a few seasons as their veterans age).
Buyouts
D Anthony DeAngelo ($883K in 2022-23)
D Dan Girardi ($1.11MM in 2022-23)
F Brad Richards ($1.056MM through 2025-26, no cap hit)
D Kevin Shattenkirk ($1.433MM in 2022-23)
Retained Salary Transactions
None
Still To Sign
None
Best Value: Shesterkin
Worst Value: Trouba
Looking Ahead
For the upcoming season, the Rangers should be able to operate with enough cap space to be able to afford an injury recall without their cap situation becoming a problem.  That really doesn't seem like much but compared to a lot of other playoff contenders, they're in pretty good shape.  That also gives them the potential to bank a bit of space throughout the year if the team is healthy which could come in handy if Lafreniere breaks out and hits some of those bonuses.
From a longer-term perspective, most of the heavy lifting is already done.  The players making more than $3MM are all signed for at least three more seasons which means that it's the secondary part of the roster and their current entry-level players that will need to be dealt with over the next few seasons.  There probably isn't enough money left to make a significant addition but they're not in a spot where they'll be facing a cap crunch either.  All in all, they're in pretty good shape moving forward.
Photo courtesy of USA Today Sports Images.