Flyers defenseman Travis Sanheim is entering the final year of his contract and will be eligible for unrestricted free agency next summer.  However, GM Chuck Fletcher told reporters including Charlie O'Connor of The Athletic (Twitter link) that the goal is to re-sign the 26-year-old and discussions with his agent have already started.
Back in the 2021 offseason, Philadelphia somewhat surprisingly opted to file for club-elected arbitration with Sanheim.  That allowed the defender to choose the term had it gone to a hearing and he likely would have picked two years, permitting him to get to unrestricted free agency at 27.  It didn't get that far as the two sides settled three days before the scheduled hearing but again, somewhat surprisingly, the Flyers agreed to give him a two-year deal with a $4.675MM AAV, putting them in the situation they are now where they're really going to have to pay up to keep him beyond the upcoming campaign.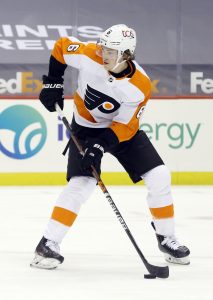 Sanheim is coming off arguably the best season of his five-year NHL career as he collected 31 points in 80 games last season while logging nearly 23 minutes a night.  That wasn't his best single-season point total (that was 35 back in 2018-19) but he clearly established himself as one of their top defenders.
With Ivan Provorov ahead of him on the depth chart, Sanheim slots in as their second-pairing left defender although, with special teams time, he was still their second-most-used defender last season.  That's an important distinction to note as while the team might want to argue that he's not a top-pairing player based on their depth chart, Sanheim's camp can easily claim otherwise.
Philadelphia already is one of the highest-spending teams in the league when it comes to their blueline at over $31MM this season.  While Ryan Ellis' playing future is in doubt, things aren't at the point where they can conclusively rule that he won't play in 2023-24 so they can't automatically assume he'll be on LTIR at that time.  They already have $23.875MM in commitments to just five blueliners for that year and a new deal for Sanheim alone would push that amount over $30MM before they round out the rest of their back end.
Can they justify spending that much on their back end?  Spending upwards of 40% of the salary cap on the blueline isn't something many teams want to do.  But at the same time, can they afford not to?  Letting Sanheim go would deal a big blow to their defense corps and considering their stated intention is to get back to being a playoff contender, losing him would make that task much more difficult.  There's still plenty of time to work on a new deal but with most of the heavy lifting for the 2022-23 roster now done, reaching a new agreement with Sanheim should now be at the top of Fletcher's priority list.
Photo courtesy of USA Today Sports Images.