Navigating the salary cap is one of the more important tasks for any GM.  Teams that can avoid total cap chaos by walking the tightrope of inking players to deals that match their value (or compensate for future value without breaking the bank) remain successful.  Those that don't see struggles and front office changes.
PHR will look at every NHL team and give a thorough look at their cap situation heading into the 2022-23 season.  This will focus more on players who are regulars on the roster versus those who may find themselves shuttling between the AHL and NHL.  All cap figures are courtesy of CapFriendly.
New York Islanders
Current Cap Hit: $80,139,963 (under the $82.5MM Upper Limit)
Entry-Level Contracts
F Oliver Wahlstrom (one year, $894K)
Potential Bonuses
Wahlstrom: $537.5K
Wahlstrom was able to hold down a regular role in the lineup last season but he hasn't been able to show the offensive upside he had which helped him become the 11th-overall pick in 2018.  While a more offensive-oriented system from Lane Lambert should help him and give him a chance to hit one of his 'A' bonuses, it's unlikely that he'll take a big enough step to completely skip a bridge contract altogether.  A two-year deal in the $1.5MM range is where his next deal currently would fall.
Signed Through 2022-23, Non-Entry-Level
F Mathew Barzal ($7MM, RFA)
F Kieffer Bellows ($1.2MM, RFA)
D Scott Mayfield ($1.45MM, UFA)
F Richard Panik ($1.375MM, UFA)*
F Zach Parise ($750K, UFA)
G Semyon Varlamov ($5MM, UFA)
*-Detroit is retaining an additional $1.375MM of Panik's deal.
Potential Bonuses
Parise: $750K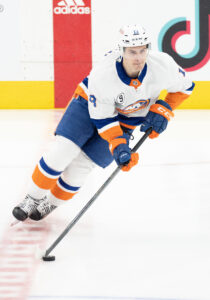 Barzal took a long time to sign this deal two years ago and wound up with the ability to hold the hammer in negotiations this summer.  The three-year term puts him in a spot where he's one year away from unrestricted free agency if he simply accepts his qualifying offer (which checks in at $8.4MM).  He'll also have salary arbitration rights at that time.  Statistically speaking, he has produced closer to the level of a $7MM player than a true top center so he'll be someone that will be banking on having a big season under Lambert to show that he's worthy of being the focal point of New York's attack for years to come.  If that happens, an extension might put them somewhere in the $9MM or more range.
Panik spent most of last season in the minors and it's possible that he could be headed back that way as well although, with one year left on his contract instead of a multi-year commitment, that could bolster his value a little bit.  At this point, he's likely to be closer to the minimum on his next contract, however.  Bellows was in and out of the lineup at times last season but showed a bit of offensive improvement while continuing to play with some physicality.  He took a one-year deal with the hopes of having a more consistent role next season which would give him a decent-sized boost on his contract.  Parise had a really slow start last year but was much better from January on.  The bonuses are pretty easy to hit (he'll max out at 20 games played) and after being on these types of deals the last two years, that may be what happens next year if he wants a 19th season.
Mayfield has been a reliable defensive defenseman for several seasons now while making what a typical depth player gets.  He'll be 30 on his next contract and as a right-shot player, he plays the side that is generally in the highest demand.  At a minimum, he'll be able to double his current AAV and might be able to get something in the $3.5MM range on a longer-term deal on the open market.
Varlamov has basically become a high-priced insurance policy which isn't the role he expected when he signed with them three years ago.  It's unlikely that he'll be able to command this much in free agency next summer unless he gets back to being a starter.  Barring injury or a trade, that's unlikely to happen.
Signed Through 2023-24
D Sebastian Aho ($825K, UFA)
F Josh Bailey ($5MM, UFA)
F Anthony Beauvillier ($4.15MM, UFA)
F Cal Clutterbuck ($1.75MM, UFA)
F Matt Martin ($1.5MM, UFA)
G Ilya Sorokin ($4MM, UFA)
Bailey has been with the Islanders for 14 seasons now and still is looking for his first 20-goal campaign.  While he was a higher-end playmaker a few years ago, his production has dipped a bit since then.  By the time the 2024-25 campaign starts, he'll be 35 and Bailey will be looking at having to take a bit less at that time.  Beauvillier has shown some offensive upside in the past but is coming off a particularly quiet year.  He's a top-six winger for now and if he can hold down that spot and produce a bit more, he might be able to get this much in 2024 on his next deal.  Clutterbuck and Martin's contracts are largely for their longevity with the organization.  Both are capable fourth liners still but are certainly on above-market deals for what they can provide.
Aho was in and out of the lineup last season but should have a chance to lock down a spot on the third pairing this time around.  If he can become a regular, even with somewhat limited minutes, that should be enough to push him past the $1MM mark on his next contract.
Sorokin has quickly established himself as the starter for the Isles and is basically playing on his bridge deal, one that takes him to free agency.  We've seen starters sign in the $5.5MM to $6MM range the last couple of seasons and Sorokin's deal should come in close to that, perhaps a bit higher if the jump in the salary cap comes by then.
Signed Through 2024-25
D Noah Dobson ($4MM, RFA)
F Brock Nelson ($6MM, UFA)
F Kyle Palmieri ($5MM, UFA)
D Alexander Romanov ($2.5MM, RFA)
Nelson is coming off a career season that saw him score 37 goals.  That's well above average for a second center and as long as he can stay around the 50-point range (even with a dip in goals closer to his career average in the mid-20s), they'll get a decent return on this deal.  That said, he'll be hard-pressed to beat this contract on the open market.  Palmieri's first full season with the Isles was a rough one.  He is getting paid like a second-line winger but his production hasn't been at that level the last couple of years which will likely have his contract considerably lower than this one.
Dobson had a breakout season last year, establishing himself as an impact defender while somewhat quietly becoming their top offensive rearguard as well.  While that seemingly positioned him for a long-term contract, he had to settle for a bridge, but again, it takes him to a year away from UFA eligibility which gives him a lot more leverage that time around.  If he stays at this level, that next deal could double this one.  Romanov was their one notable offseason acquisition from Montreal but also got a three-year bridge contract.  His limited production will limit his future earnings upside unless he can unlock that part of his game with his new team.
Signed Through 2025-26 Or Longer
F Casey Cizikas ($2.5MM through 2026-27)
F Ross Johnston ($1.1MM through 2025-26)
F Anders Lee ($7MM through 2025-26)
F Jean-Gabriel Pageau ($5MM through 2025-26)
D Adam Pelech ($5.75MM through 2028-29)
D Ryan Pulock ($6.15MM through 2029-30)
Lee's contract was an above-market one from the moment it was signed but New York didn't want to lose their captain for a second time in a short-term stretch.  He's still a capable top-six winger but it's unlikely that this will be the case by the end of the deal.  Pageau was acquired and extended back when the salary cap was expected to go up a lot continually before the financial landscape changed in a hurry.  He's quite effective in his role but $5MM for a third center is on the high side in this current market.
Cizikas is their longest-signed forward who also received somewhat of a legacy contract from the Isles last summer.  He's better than a typical fourth-line center and brings enough other elements to the table that he can still provide a decent return on this contract although it's unlikely that he'll score enough to justify the total cost by the end.  Johnston costs a bit more than a typical enforcer gets although with a four-year term, he might be able to be sent through waivers when needed to free up cap space; his cap hit is low enough to fully be buried in the minors.
Buyouts
G Rick DiPietro ($1.5MM through 2028-29 but no cap charge as it was a compliance buyout)
Retained Salary Transactions
None
Still To Sign
None
Best Value: Dobson
Worst Value: Palmieri
Looking Ahead
By basically doubling down on his roster, GM Lou Lamoriello has left himself with a bit of flexibility heading into the season.  They have some room to navigate through injuries and if they're still in the mix at the trade deadline (and that's a big if), they'll be in much better shape to add than other cap-strapped squads.
There's a path to getting Barzal locked up long-term.  Varlamov will likely be replaced by a cheaper backup which will free up the money to add to Barzal's current AAV.  One year later, Sorokin's extension can be afforded by some of the bigger money coming off the books up front.  But this only allows them to keep the current core in place, not necessarily add to it.  Finding a way to free up some longer-term flexibility should be high on Lamoriello's priority list but as we've seen all summer, that's going to be a task that's much easier said than done.
Photo courtesy of USA Today Sports Images.