Earlier this summer, Carolina gave Ethan Bear permission to speak to other teams heading into restricted free agency.  At the time, it seemed like he was a candidate to be non-tendered but in the end, the Hurricanes qualified him and signed the 25-year-old to a one-year, $2.2MM deal.  However, Postmedia's Bruce Garrioch reports that even with the new contract, Carolina is still trying to move the young defender.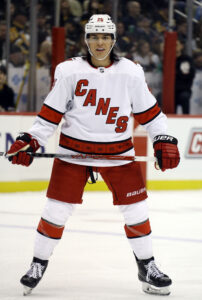 Last season was a tough one for Bear.  After being a regular in a top-four role for Edmonton back in 2019-20, he battled some injury issues the following season and dropped down the depth chart which helped contribute to him being traded to Carolina a few days after the draft in 2021.  The hope was that he'd rebound but instead, history repeated itself.  Bear was banged up at times last season and when he was in the lineup, he struggled.  Overall, he had five goals and nine assists in 58 games with a career-low 16:05 ATOI.  While he underwent a minor procedure after the playoffs, Bear was available to play if needed but was scratched for every contest.
In a recent appearance on CHEK (video link), Sportsnet's Elliotte Friedman reported that the Canucks are among the teams that have shown interest in Bear.  There is a definite opening on the right side of their back end but making the money work could be tricky.  They're less than a million below their LTIR ceiling (with Micheal Ferland not playing again this season) which is considerably less space than Bear's contract.  Tucker Poolman's availability for the start of the year is in question but he's expected back at some point which takes the option of adding Bear to slide into Poolman's vacated spot off the table as well.
Meanwhile, Carolina has no such cap concerns.  With Max Pacioretty and Jake Gardiner LTIR-bound to start the season, they have the ability to find him in without an issue.  However, Dylan Coghlan is also in the fold and could push for a spot on the third pairing which could have Bear on the fringes of the lineup once again; Brett Pesce and Brent Burns are clearly locked into the right-side spots on the top two pairings already.  By qualifying him, the Hurricanes determined that there was still some value but if he sits a lot early on, that will change in a hurry.
Whether it's Vancouver or another team, it looks like Bear is a candidate to be on the move over the coming weeks and with the situation he'll likely be in with Carolina where he'll be battling for a spot in the lineup, it might be a move that the Hurricanes will want to make sooner than later.
Photo courtesy of USA Today Sports Images.